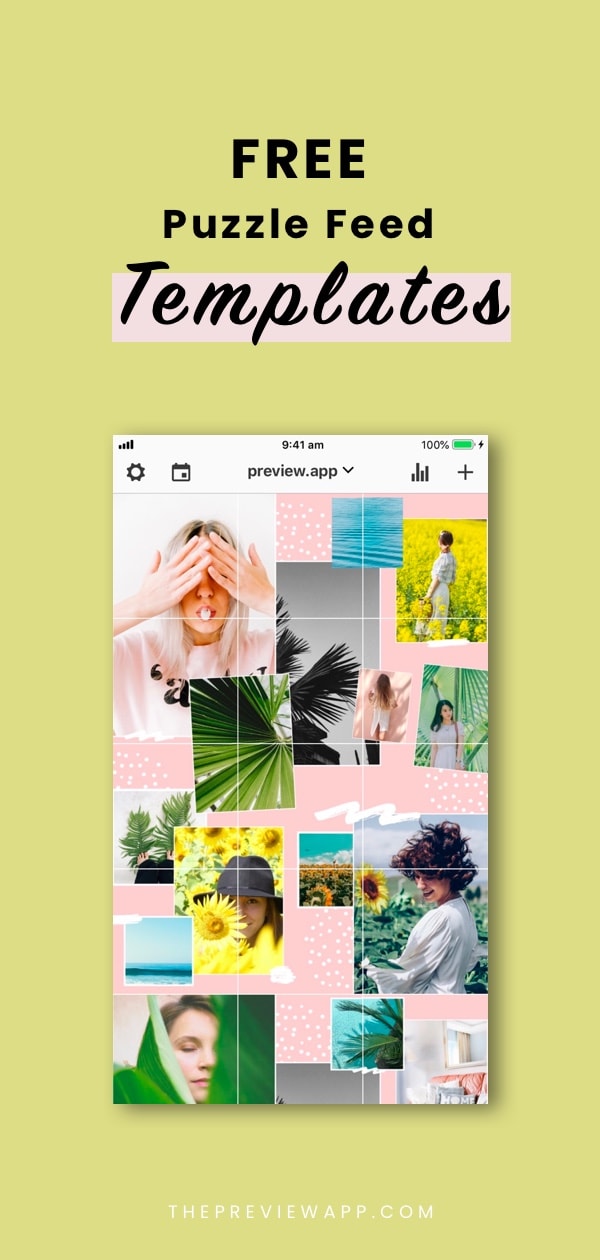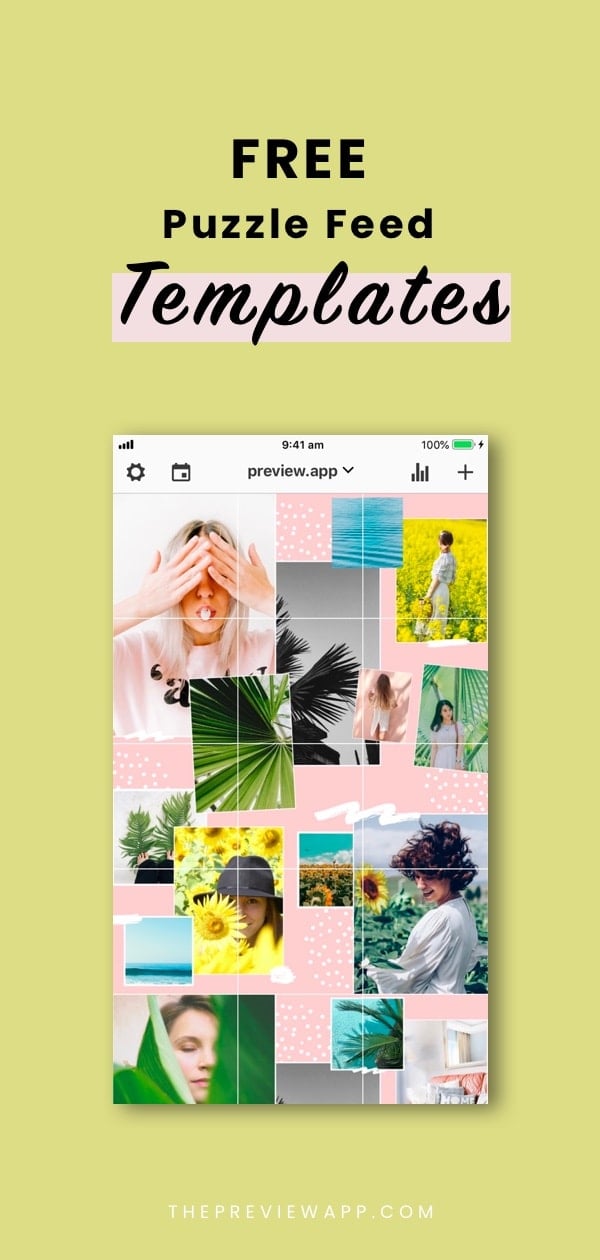 An Instagram Puzzle Feed is one of our favorite Instagram feed layouts.
It looks complicated to create, but it's actually super simple.
And to make it even simpler, we created 6 beautiful Instagram Puzzle Feed templates for you.
You don't need Adobe Photoshop or Illustrator

You can fully customize the templates

Your can choose your own colors
All you need it:
A free tool called "Canva"

Your photos, and

Please read the tutorial very carefully.
We are making the templates free for everyone, all around the world. We want to make sure nobody breaks the templates. So please, follow this tutorial carefully.
The tutorial is super easy.
Just follow these steps:
1. Create a Canva account
Canva is a very simple design tool. It has a website and an app.
To keep things super simple, I recommend you use Canva on your computer (not the app). It will be easier to create your puzzle feed on your computer.
If you don't have an account with Canva yet, click here to create one.
If you already have one, login now.
Then, go to step 2.
2. Download your free puzzle feed template
Before I share the link to the templates, read the full tutorial.
We made the templates available to everyone for FREE.
We need to make sure nobody breaks the templates.
If people keep breaking the templates, then we will stop sharing the templates.
After you open the link, do this:
After you click on the link, the Canva website will open and you will see the templates file.
Press on "File" in the top left corner of your screen: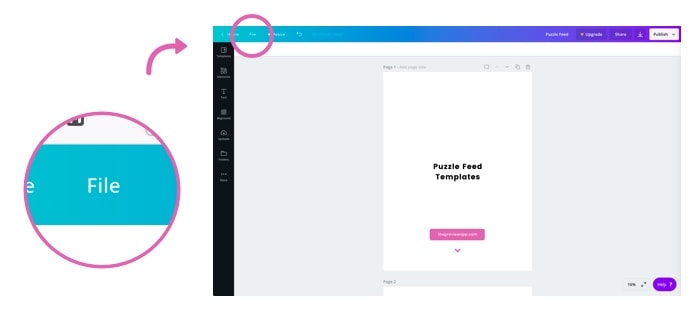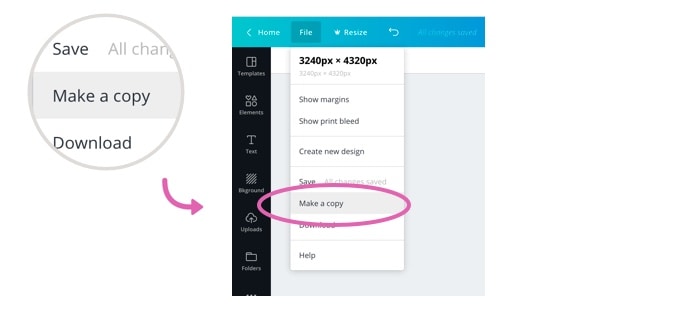 A new window might appear on your computer. This is your official copy of the template: your template.
To make sure you have the copy of the template, look at the file name.
You should read "Copy of Puzzle Feed".
If you don't see the file name "Copy of Puzzle feed" but just "Puzzle Feed", go to step 5.
Click "Home". You will be taken back to your home page in Canva.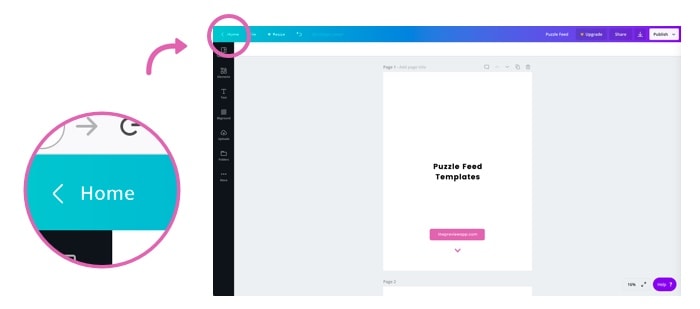 Under your "Designs" you will see the "Copy Puzzle Feed".
Click it.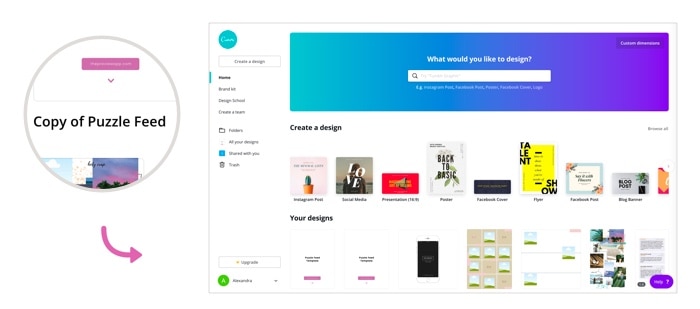 6. Edit your Instagram Puzzle Feed template
Once you have made a copy of the templates, you can edit your copy.
It's yours! Choose one of the 6 templates.
Feel free to:
Upload your own images
Change the colors of the background
Write your own text
The sky is the limit!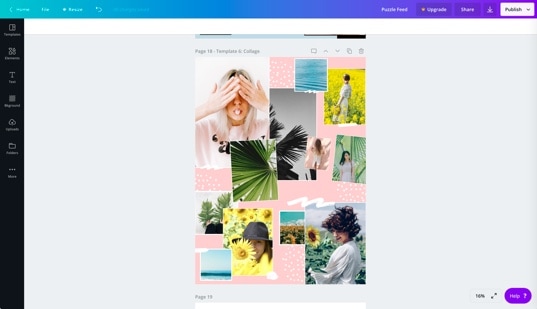 Once you are happy with the look of your Puzzle Feed, it's time to save it.
7. Save your Instagram Puzzle Feed on your computer
To download your Puzzle Feed, press on the "save" button, on the top right corner of your screen.
Tip: Check what page your Instagram Puzzle Feed is on. For example, "Template 6: Arty" is on page 18. Select the exact page you need to download.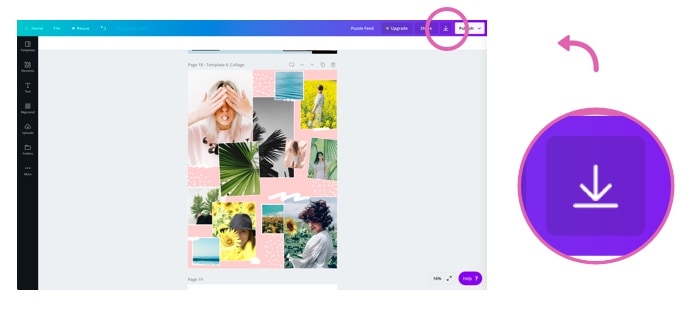 8. Split your big image in grids
Now you need to split your big image into grids.
Use this tool to split your big image: https://pinetools.com/split-image
Upload your big Instagram puzzle feed image: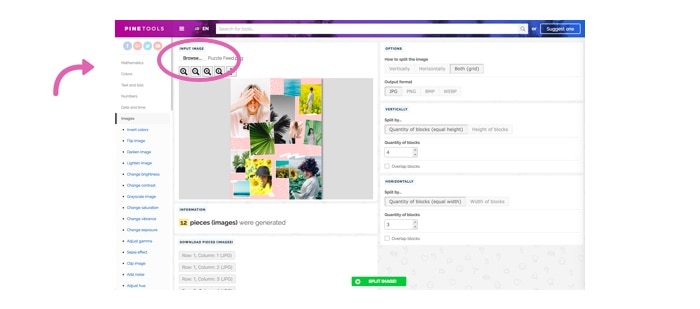 Then, select these options:
How to split the image:

Both (grids)
JPG
Vertical: 4
Horizontal: 3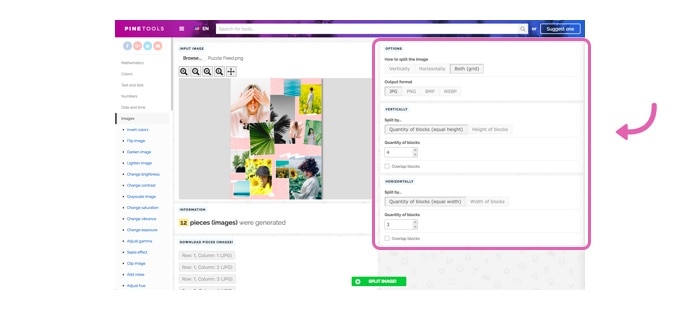 Then press the "Split image" button at the bottom of your screen.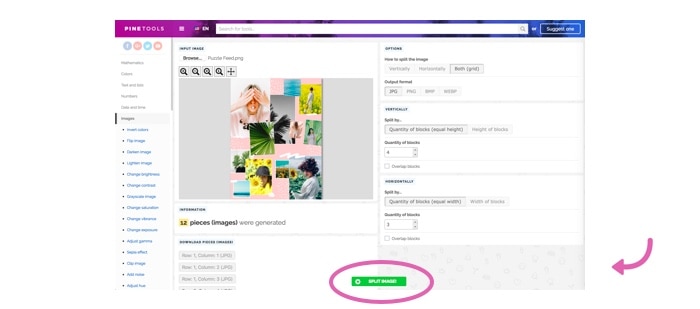 Save each image individually (to save the image, just click on each button).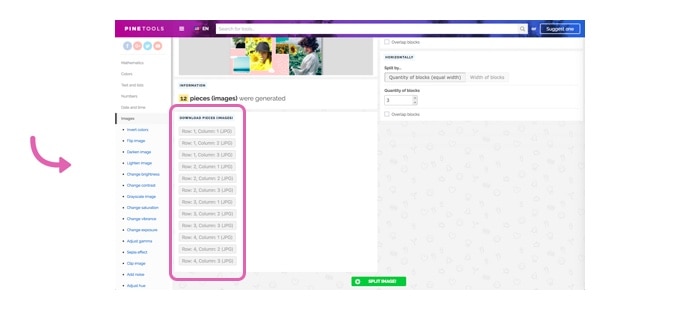 9. Import your Puzzle grids in Preview app
Final step: build your final Instagram Puzzle Feed in your Preview app.
Now that you have each single image, it's time to recreate your beautiful Instagram Puzzle feed and see it in action, as if they were already posted on Instagram.
Preview allows you to see how your feed will exactly look like before you post on Instagram.
Sounds good? Let's do it.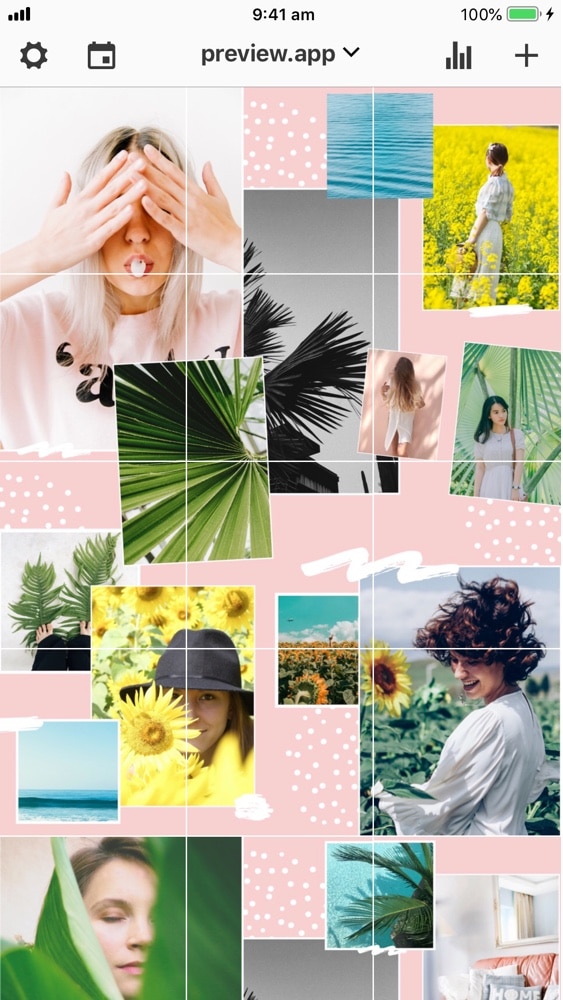 Send each image to your phone and save them on your phone. You can:
Text them to yourself

Send them via Facebook Messenger on your computer, then save them from your Messenger app on your phone)

Email them to yourself

Use Dropbox or Google Drive then save the photos on your phone.
Choose your favorite way. Then just upload these photos in your Preview app.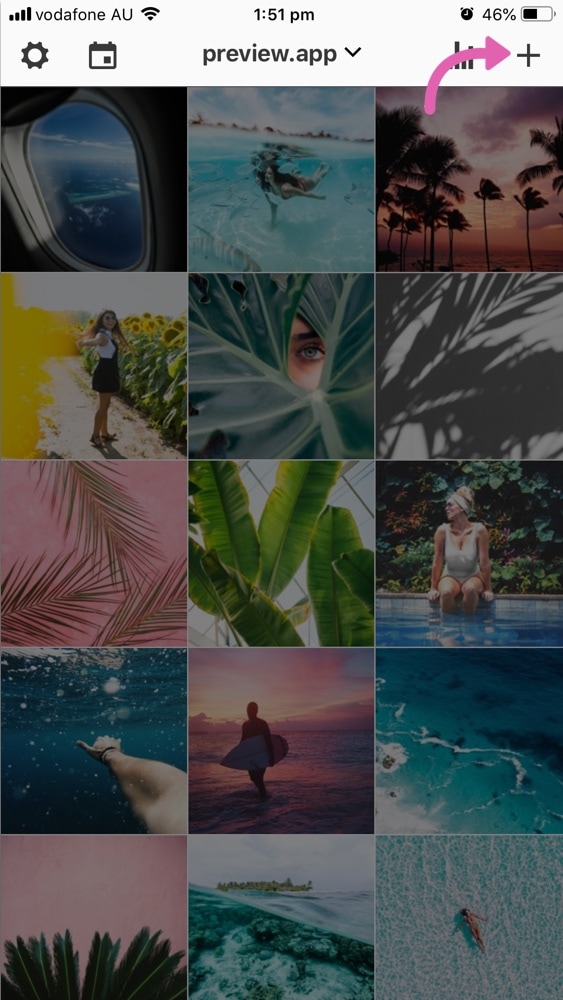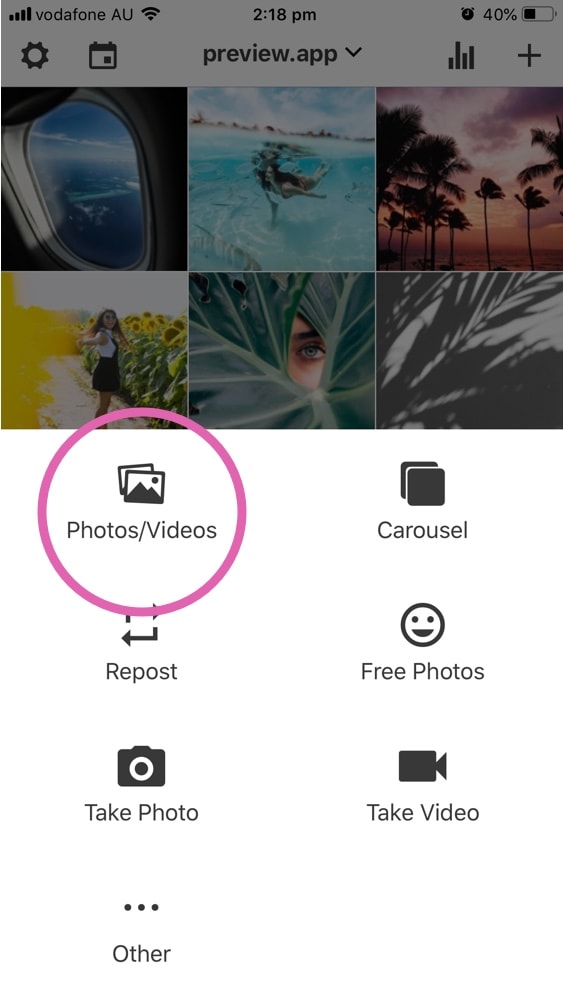 Don't worry about the order in which you upload your puzzle feed photos in Preview. You can rearrange the order of your posts once they are in the app. Just drag and drop them around until to recreate your beautiful feed.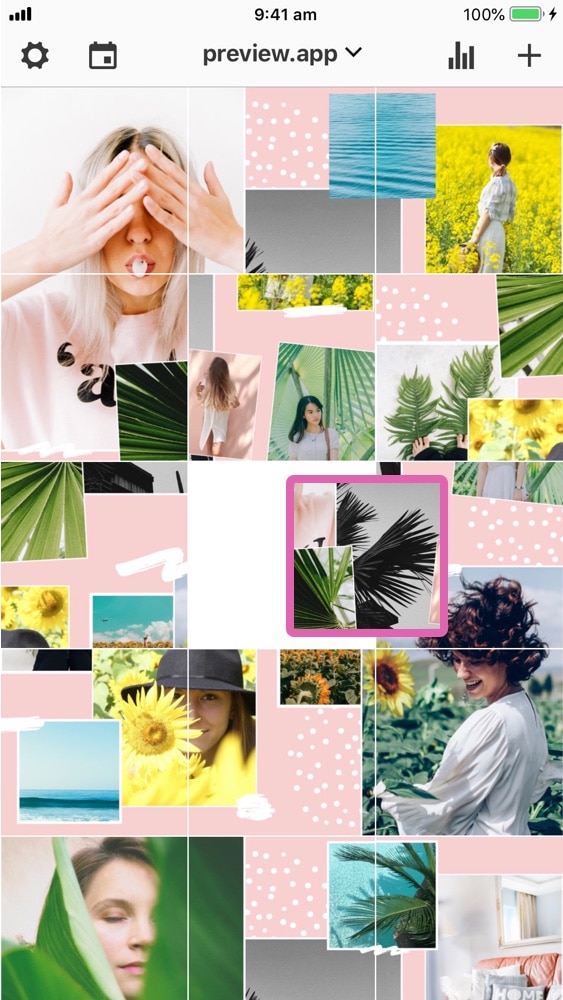 Remember:
Do not edit

the file you will see

Press on

"FILE"

Press

"MAKE A COPY"

Press "Home"
Select "Copy of Puzzle Feed"
This will ensure you are editing YOUR OWN COPY of the templates.
Ready?
If you have any doubts or questions, please ask us first.
It literally takes me 10 minutes to create a puzzle feed from start to finish using the template and then uploading the posts in Preview.
We would love to see your creations! Tag us in your posts or Insta Story so we can re-share your beautiful Puzzle Feed.
Have fun!