If you're looking for a fast and super easy Instagram Feed Planner Desktop version: You've come to the right place.
I'm going to show you how to use the brand-new Preview App Desktop version: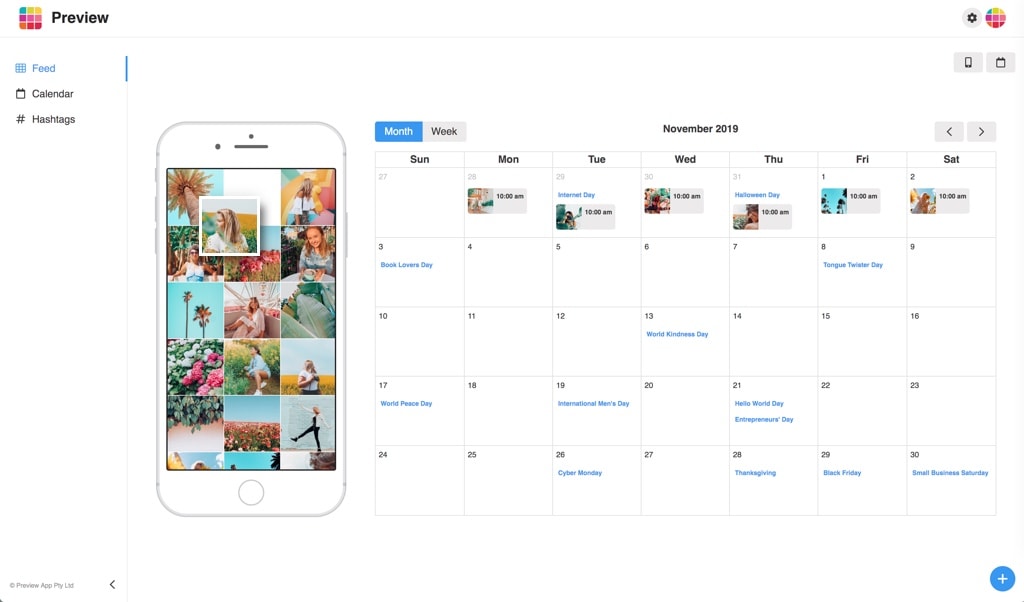 If you're new here: Welcome!
We're 4 million Instagrammers using Preview app everyday to plan our feeds, and we're loving every second of it.
I'm going to go through each feature of the Desktop Instagram Grid Planner.
Here's the thing:
Preview is super easy to use. And that's its power.
All the essential features are here for you to plan your feed in minutes, and most importantly in peace so you can focus on elevating your content.
Cool note:
Preview on your phone and on your computer are working together.
This means that if you do something in the app, on your phone, it will automatically show on your computer – and vice-versa. Your phone and your computer are synchronised: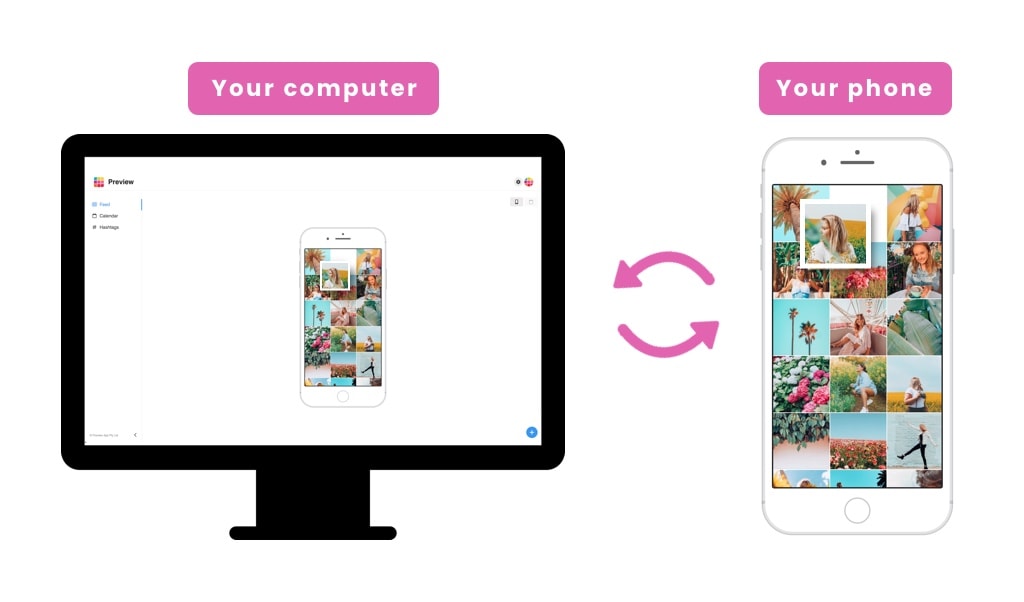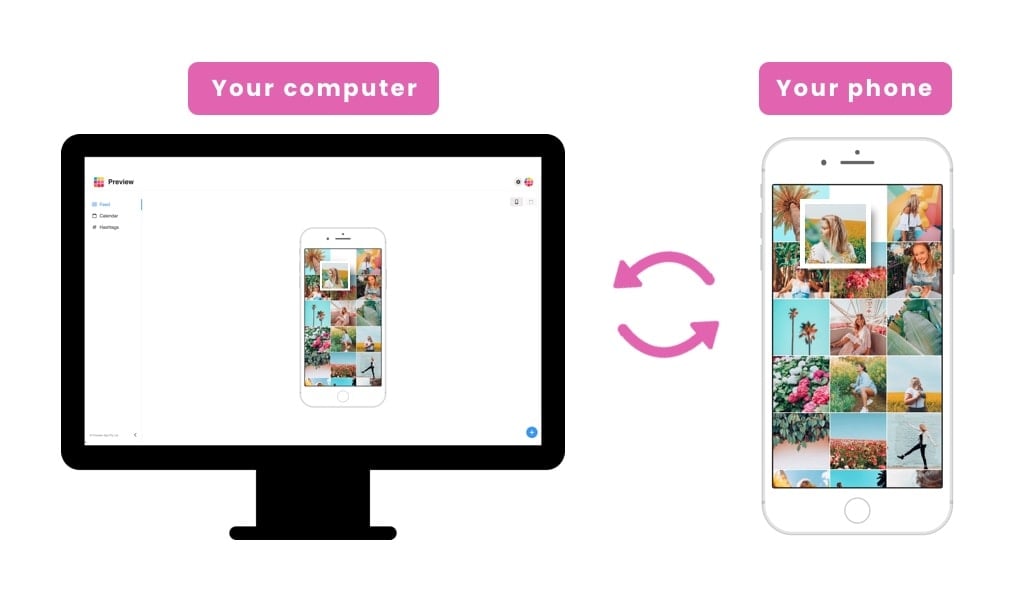 I will show you everything, so that you can plan with confidence, by yourself, or with your friends or with your team.
Ready?
As always, you can upload as many photos, videos and carousels as you want (unlimited).
Press on the "+" button
Drag and Drop your photos on the screen to upload them
Or upload posts from Dropbox or Google Drive.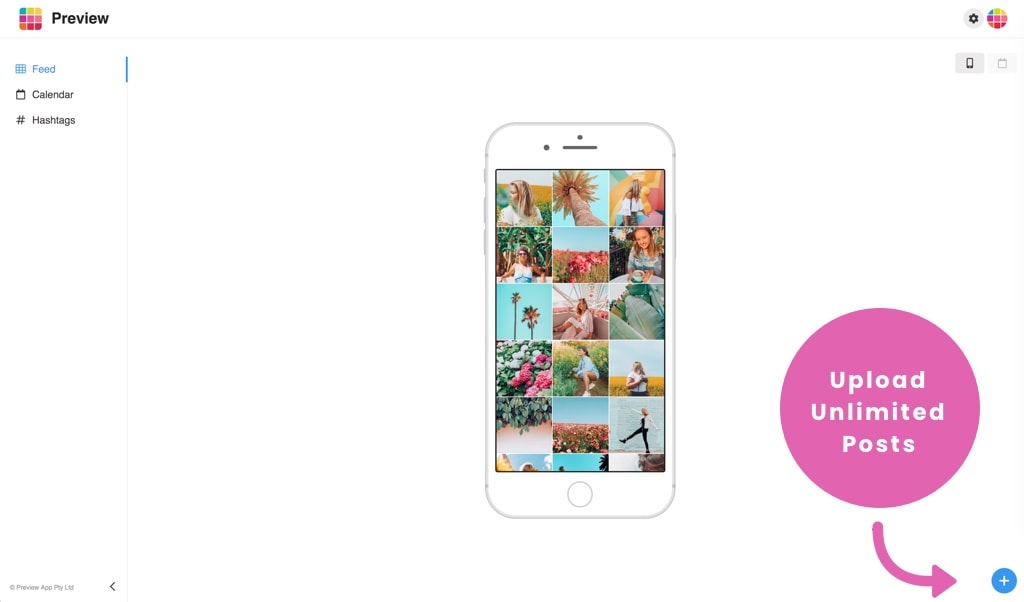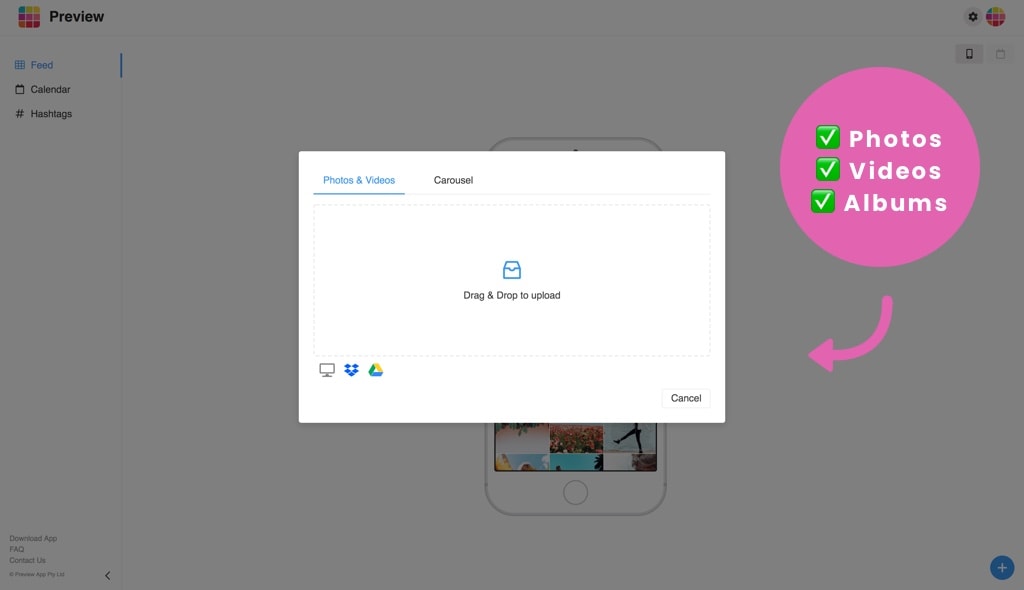 Carousel = also known as an Instagram photo album, where you can add multiple photos/videos into a single post.
Press on "Carousel"
Upload your photos/videos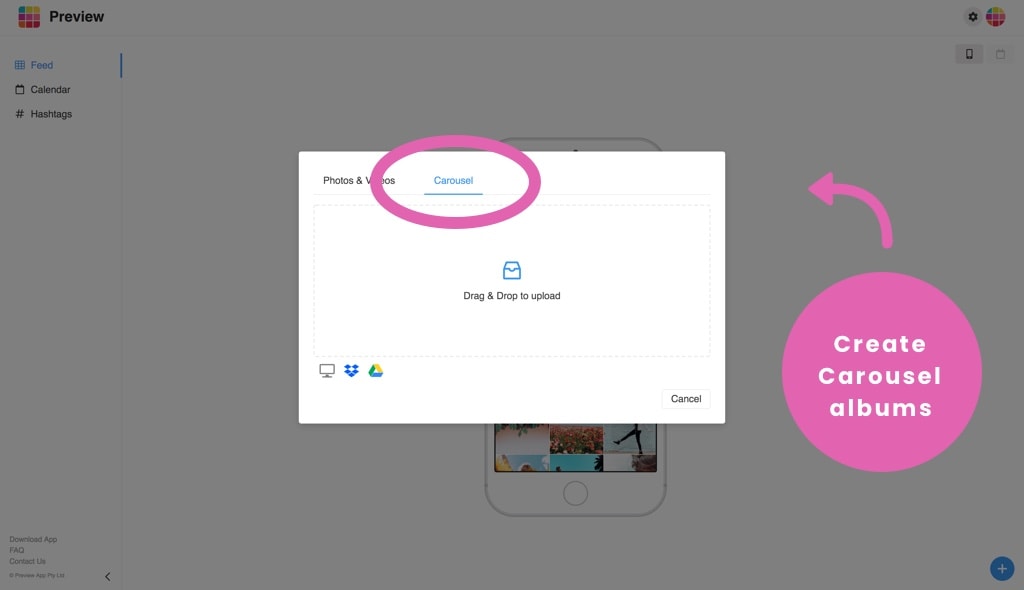 3. Rearrange the order of your posts
There are 3 ways to rearrange your posts in your grid:
Drag and Drop: Select a post and drag it somewhere else in your feed
Swap: Select 2 posts and press on the "Swap" button (the arrows)
Shuffle: Select more than 2 posts and press on the "arrows" button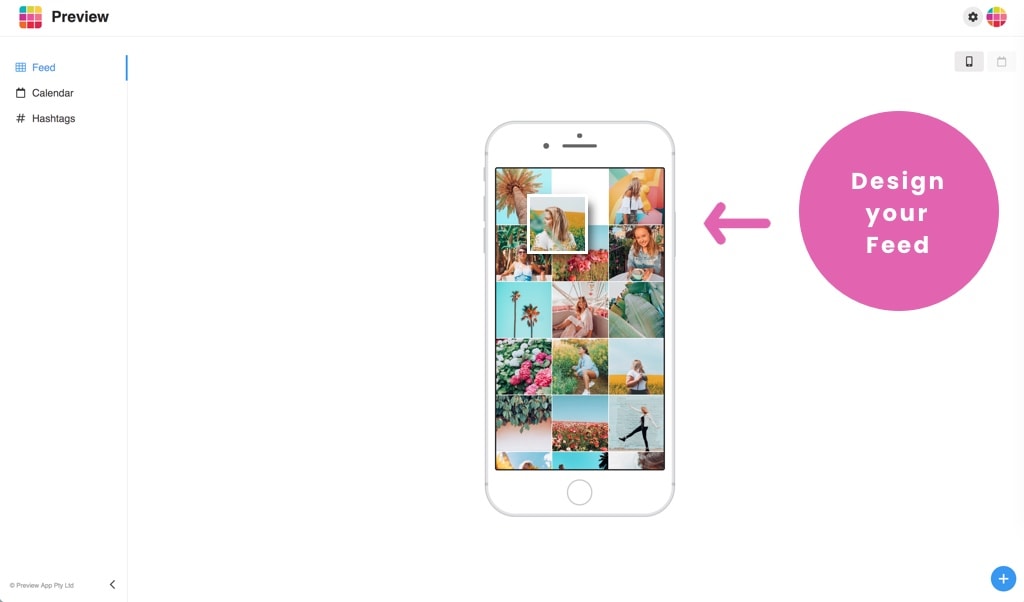 4. Add (or remove) phone around your Preview feed
Make your Preview feed even more real: add a phone around it.
Press on the "phone" button

Choose a phone (Android or iPhone)

Don't want a phone? Press "None"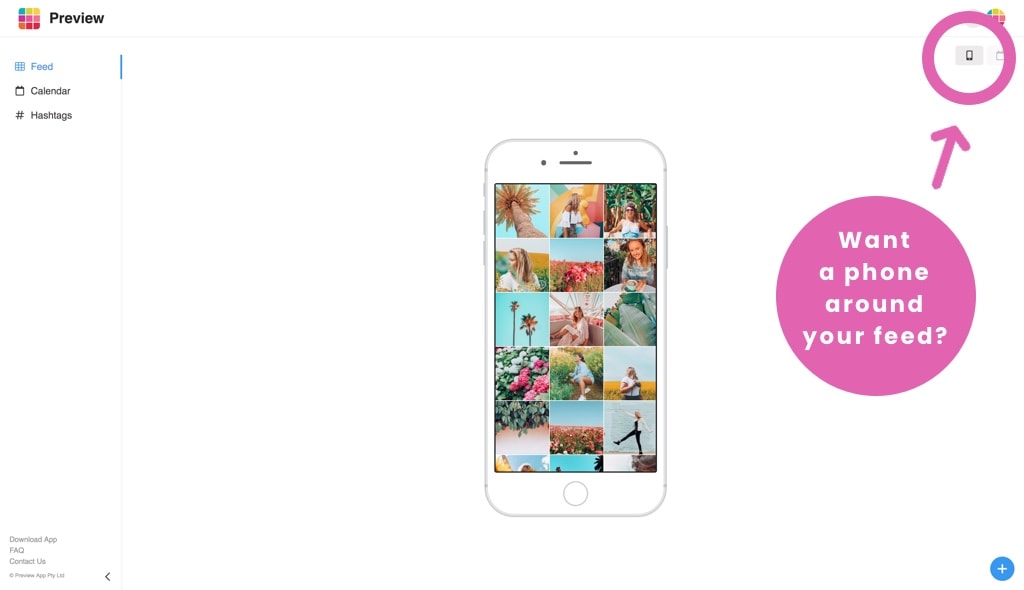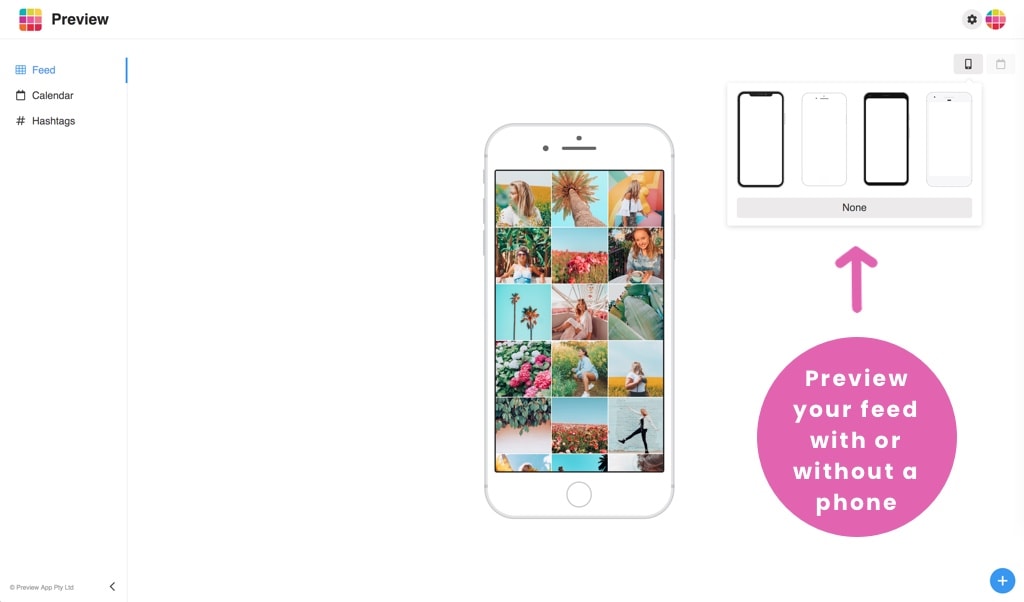 5. Calendar with Social Media Holidays
Press on the calendar button to see your Content Calendar.
Here you will see 2 things:
Your scheduled Instagram posts (if you have already scheduled some), and
Fun Social Media Holidays to help you plan your content around these dates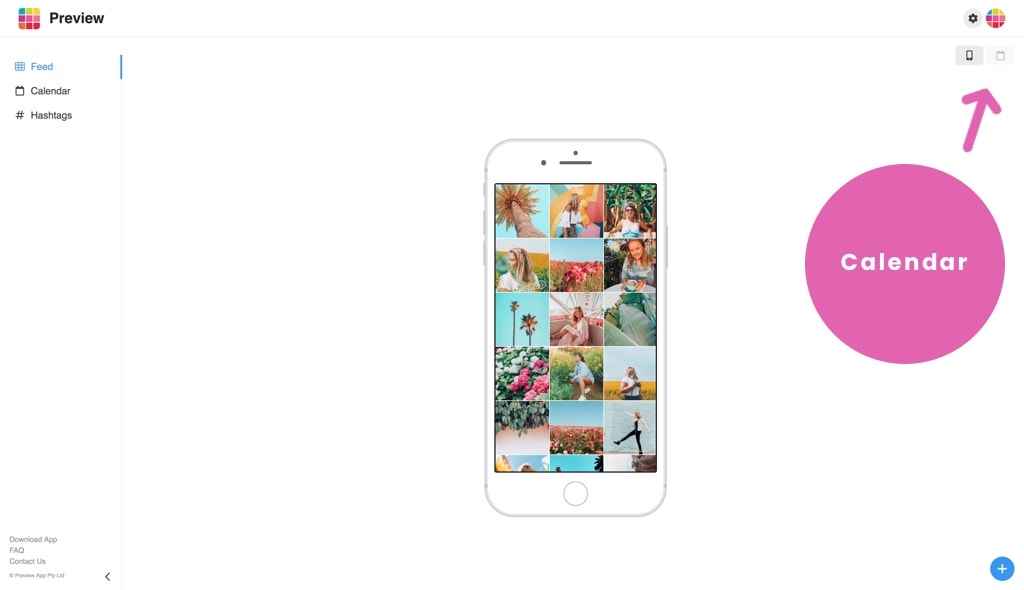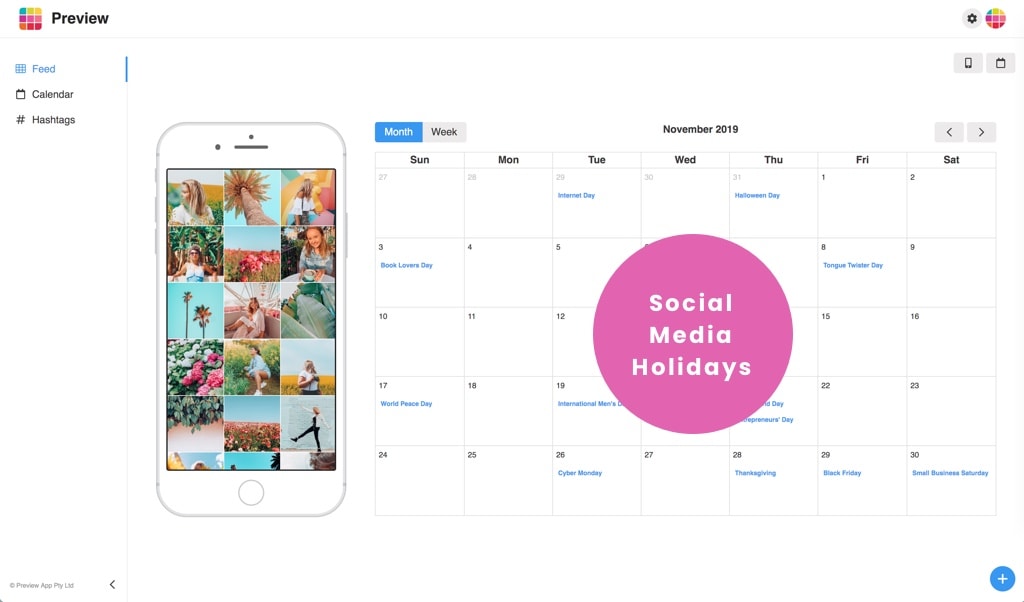 6. Schedule Instagram posts quickly
Want to schedule Instagram posts?
Just drag and drop a post from your Feed to your Calendar.
Your post will be automatically scheduled for that day.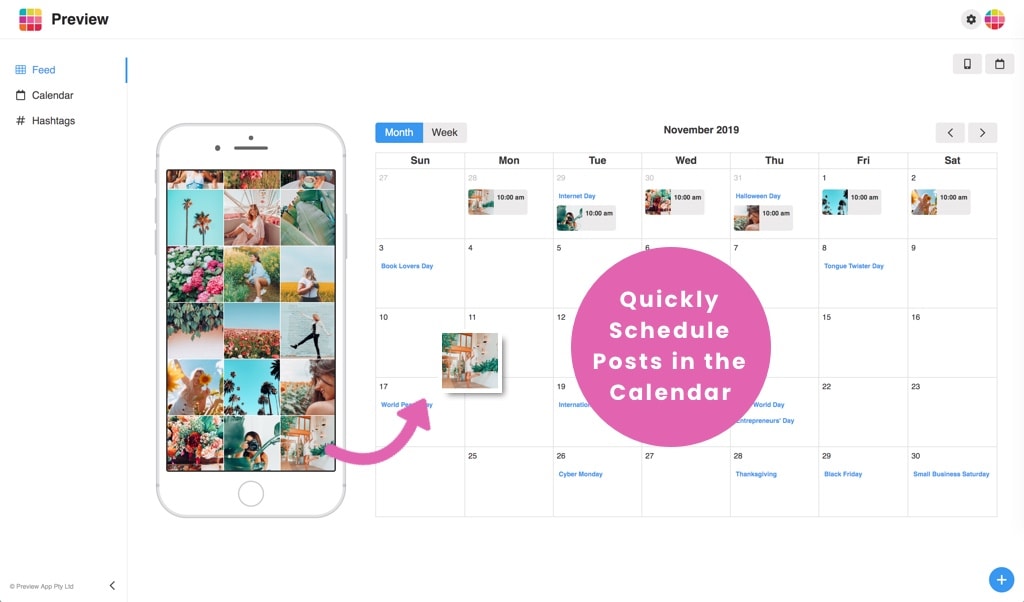 To write your caption:
Click on the post
Press on the "caption" button
Write your caption
Or (if you already have the post in your calendar): Click on the post in your Calendar.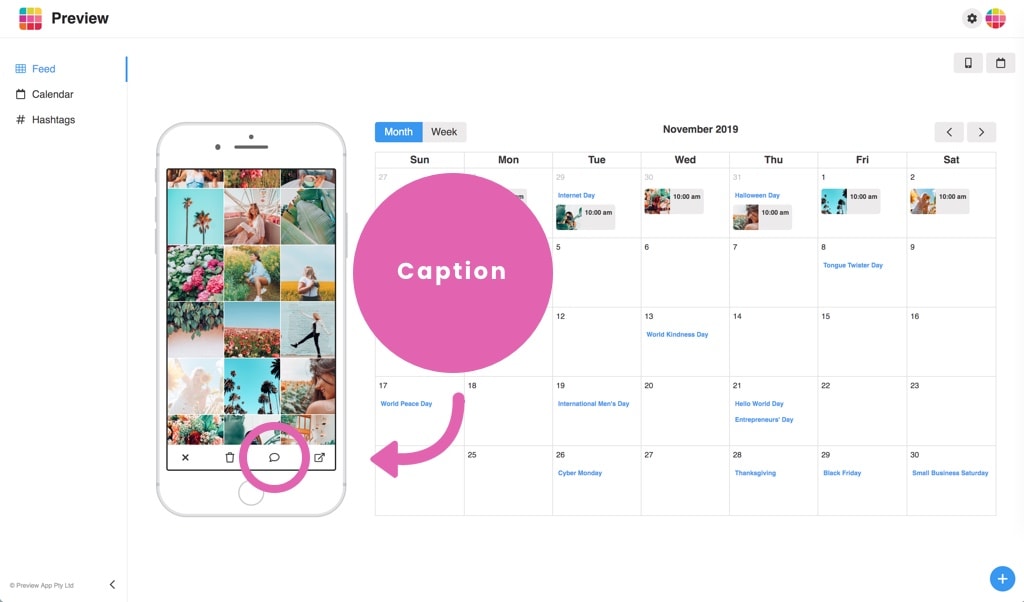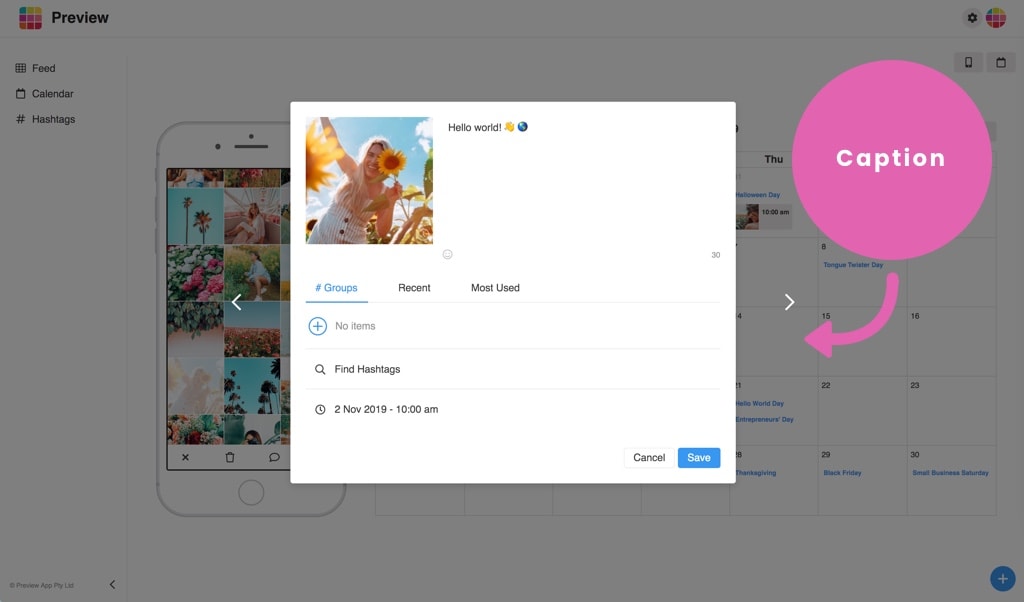 Need help finding Instagram hashtags?
We hand-pick and select the best Instagram hashtags to help you grow and connect with the right community.
Click on "Find Hashtags"
Type what you're looking for in the Search bar (for example: "Travel")
Click "Add All" to add all the hashtags in your caption, or
Click on any single hashtags you want to use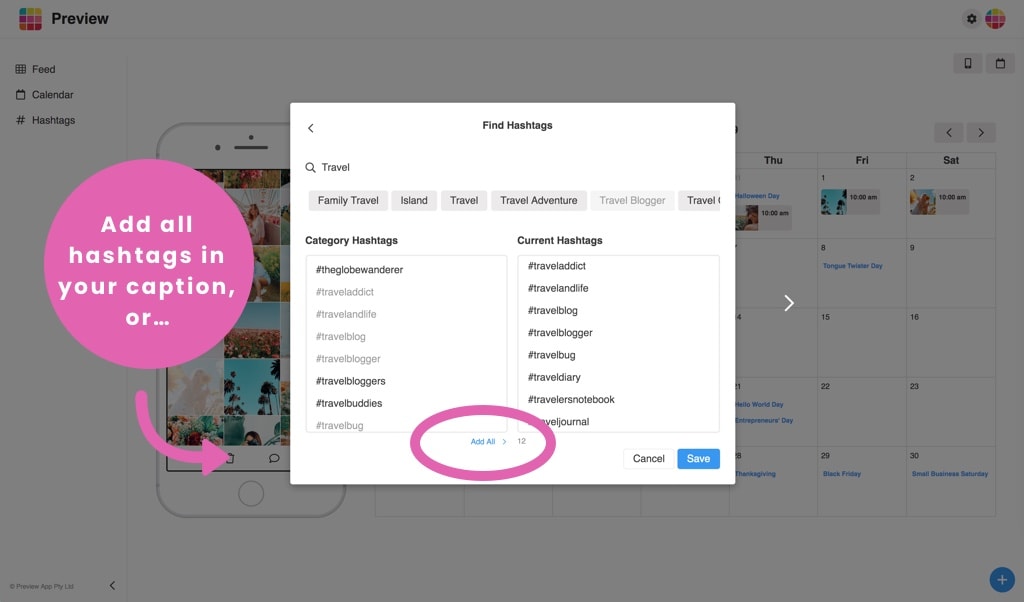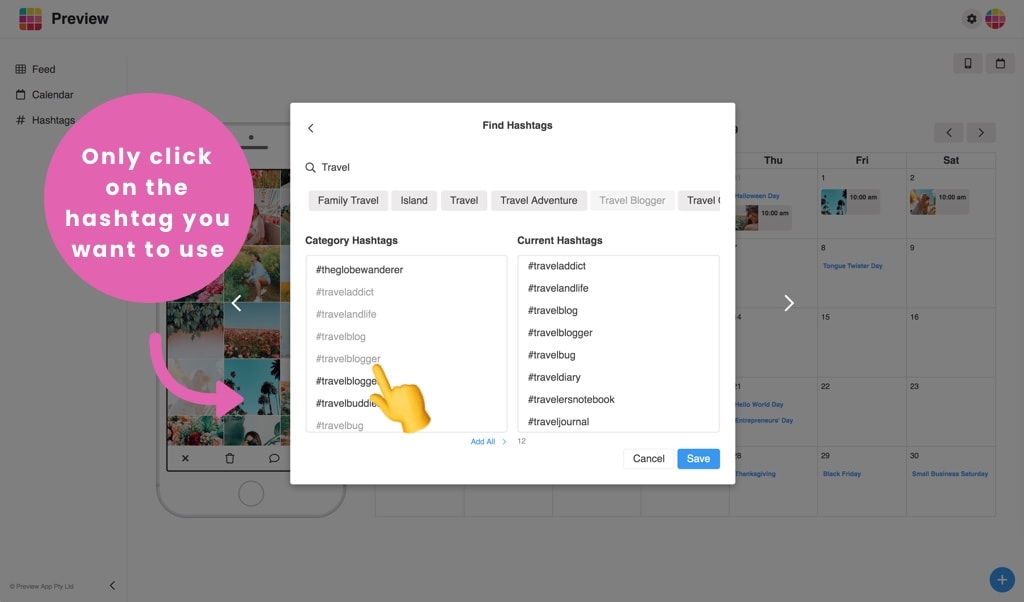 Save time. Save hashtag groups.
This way you won't have to type every single hashtag, every single time you plan a new post.
To save a hashtag group:
Write your hashtags in the caption
Press on the + button
Give a name to your hashtag group
Save!
Done.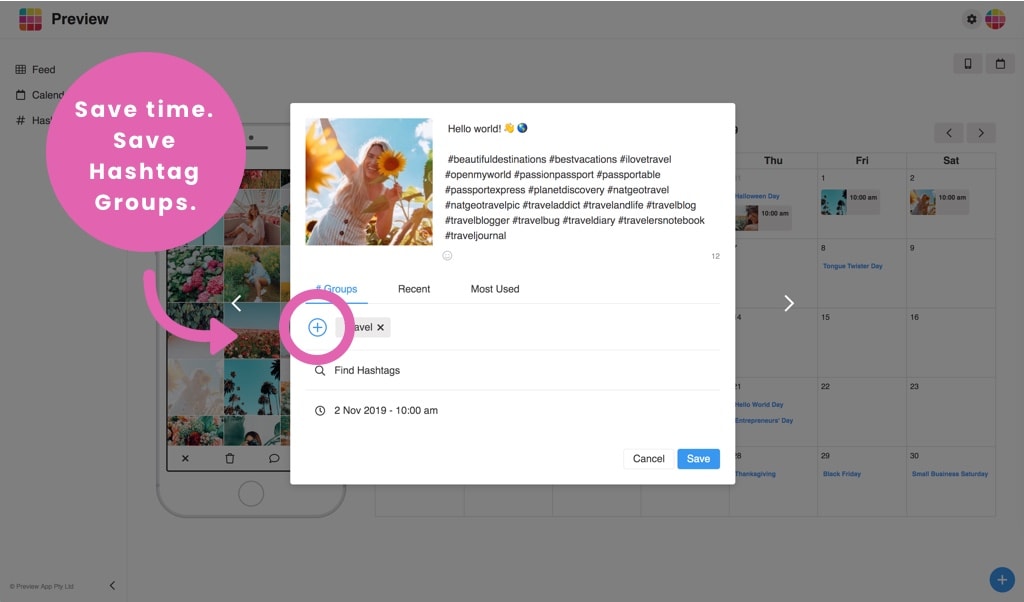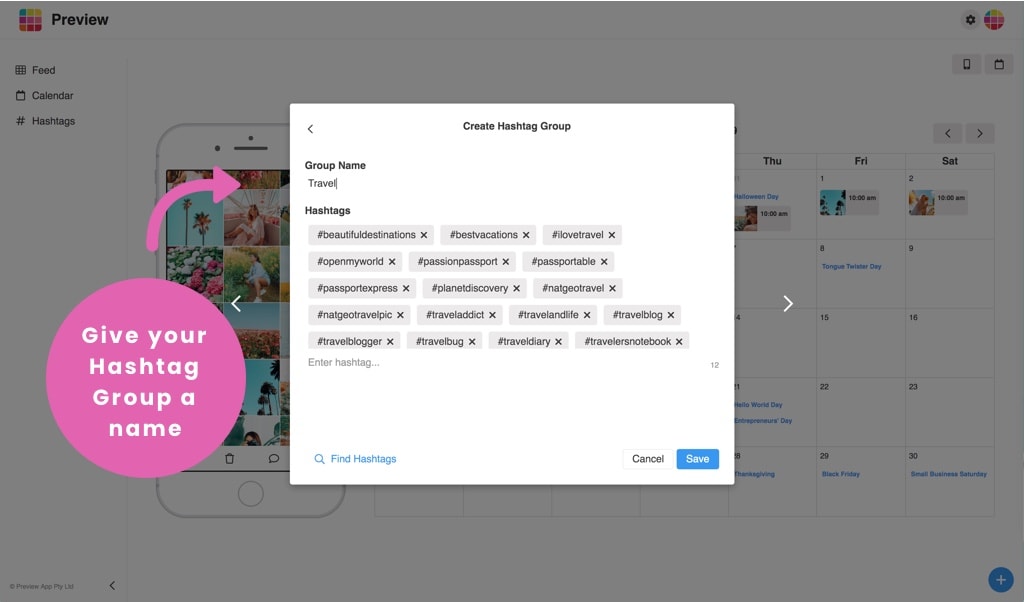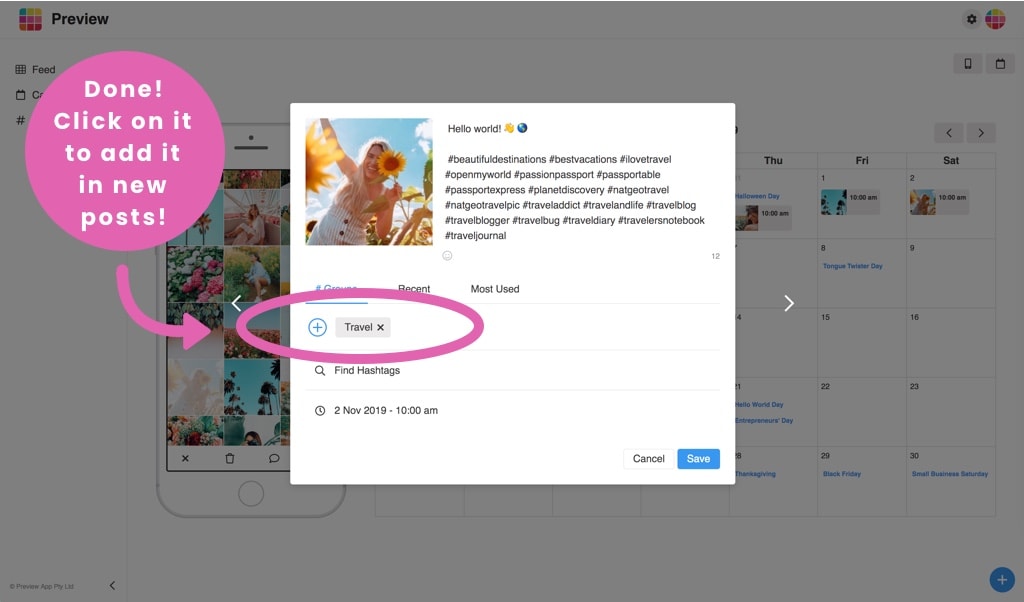 Next time you prepare a new post, just click on your hashtag group to add it in the caption.
Schedule your Instagram post. Choose a day and time.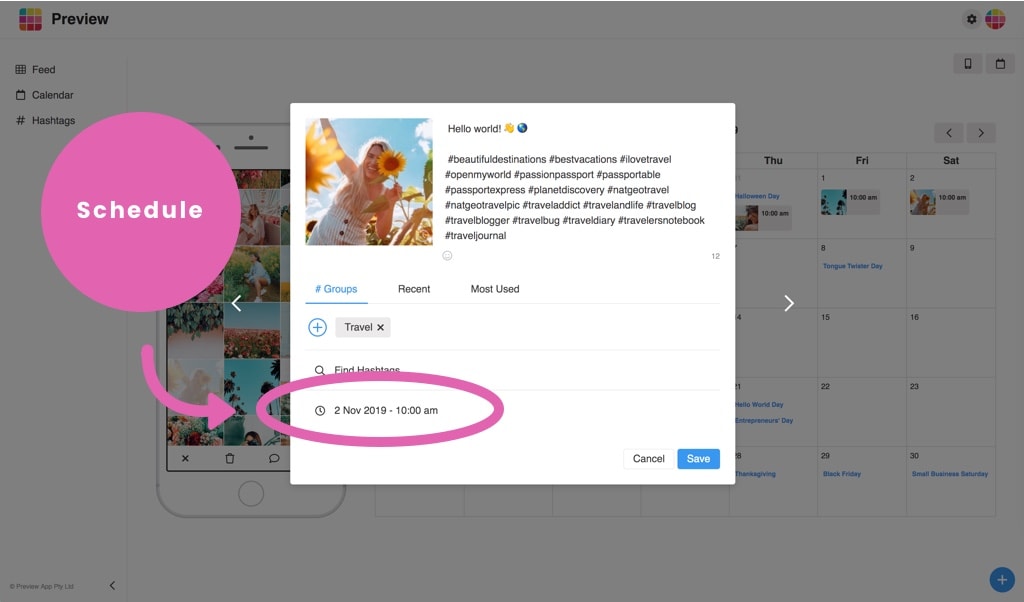 11. Schedule for different timezone
Perfect if you are a Social Media Manager and have clients from all around the world (or if you're going to travel).
Don't waste your time calculating when to schedule Instagram posts.
Press on the country name
Select the country
Done.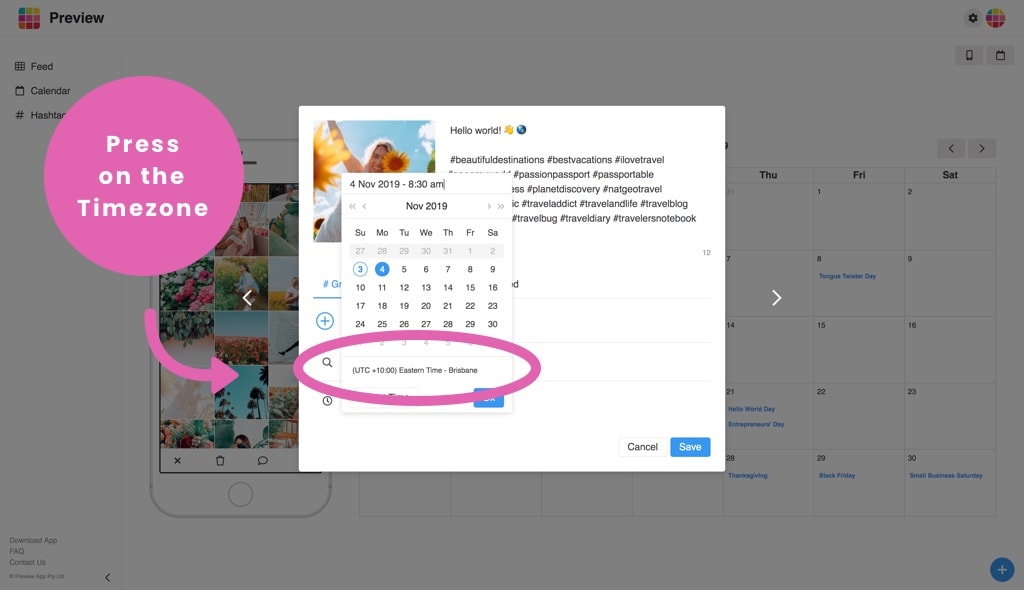 12. Manage multiple accounts
To add more accounts in Preview online:
Press on your profile photo on the top right corner of your screen
Select "Add Account"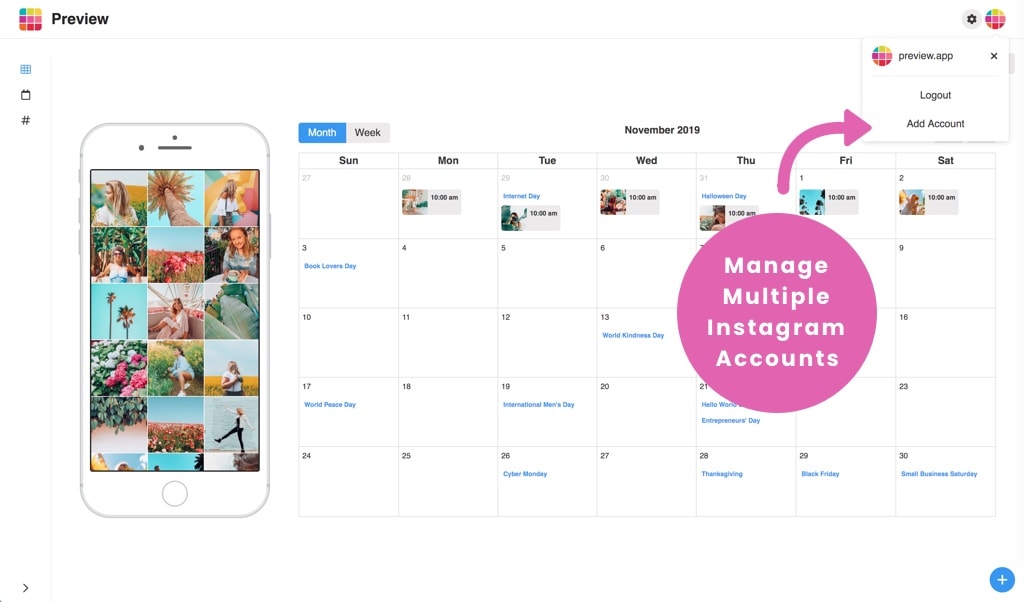 Want to manage your Instagram feed with other people?
Or want to show your feed to a friend before you start posting?
You can add them as Team Members. Invite as many people as you want.
Open your "Settings"
Select "Team Members"
Add your Team Member
Bonus: Give special permissions to your Team Member. Choose what you want them to do or not do, see or not see.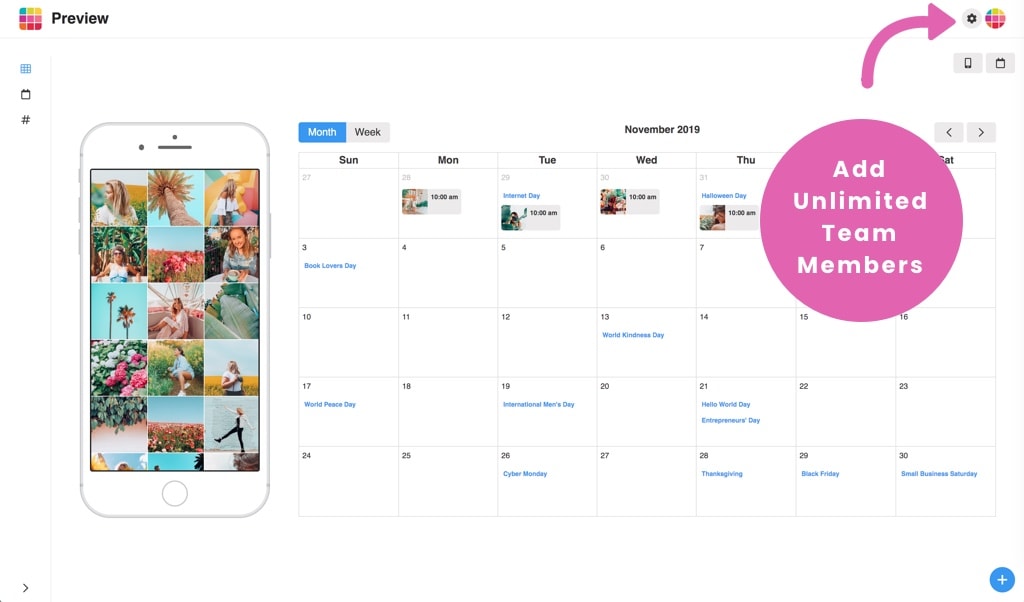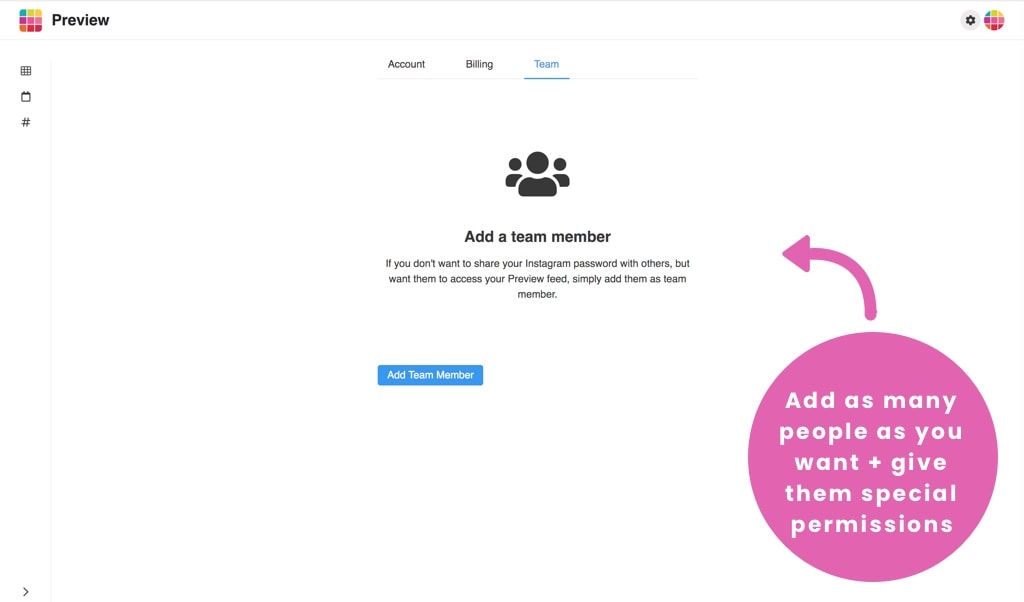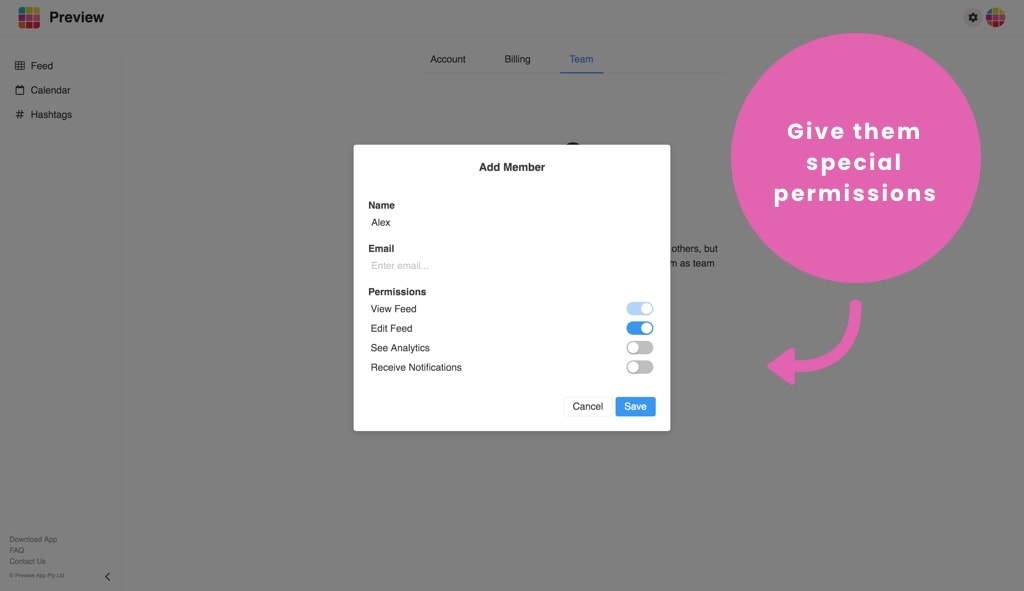 Done!
Your Team Member will be able to access your Preview feed on his/her computer, and on his/her phone too.
Edit your photos like bloggers and influencers. Preview has filters packs to help you create different, unique Instagram themes to match your brand and style.
Use Preview on your phone to edit your photos.
It's super fast:
Select the photo you want to edit
Press on the "circle" button in the middle
Apply a filter
Done. Your edited photo will appear on your computer.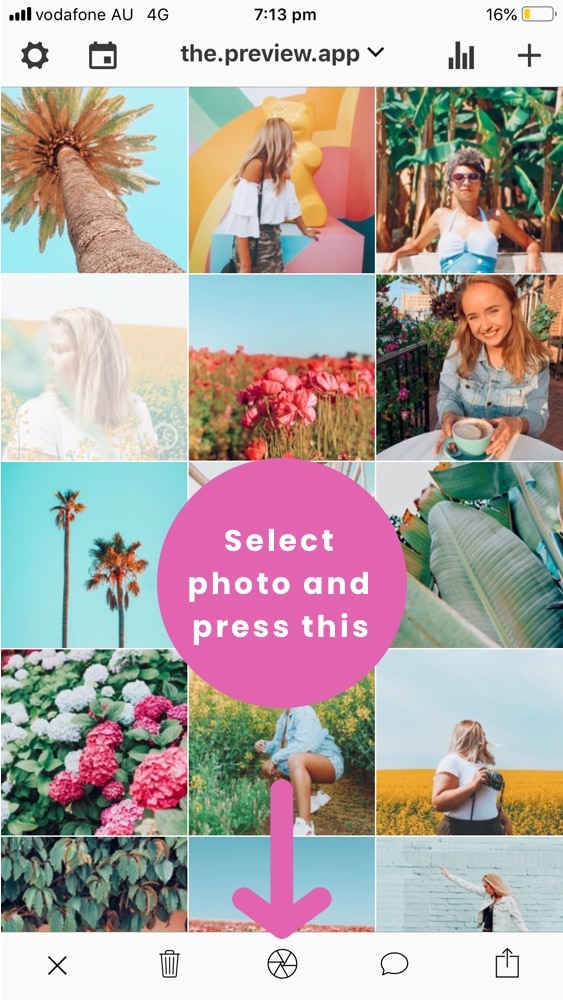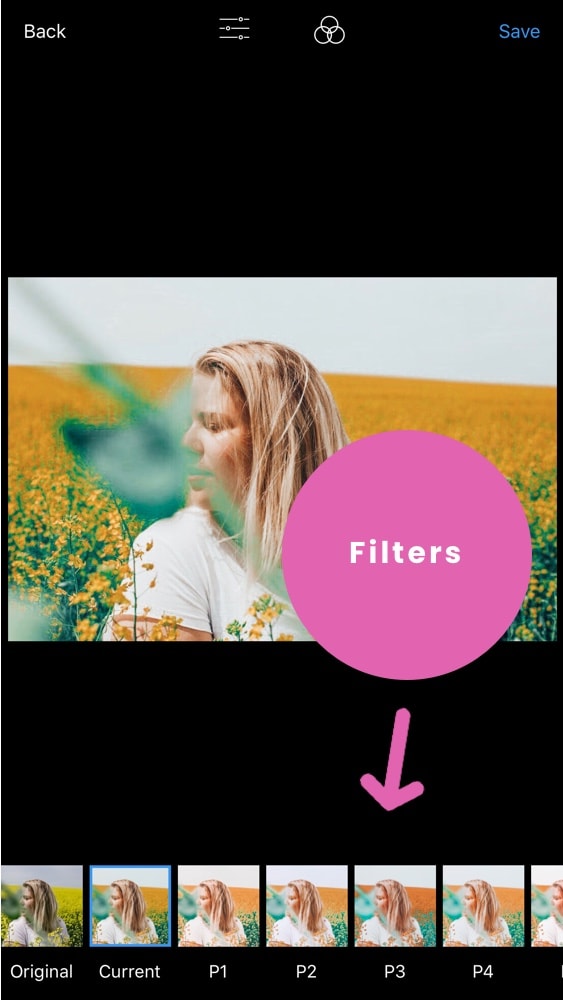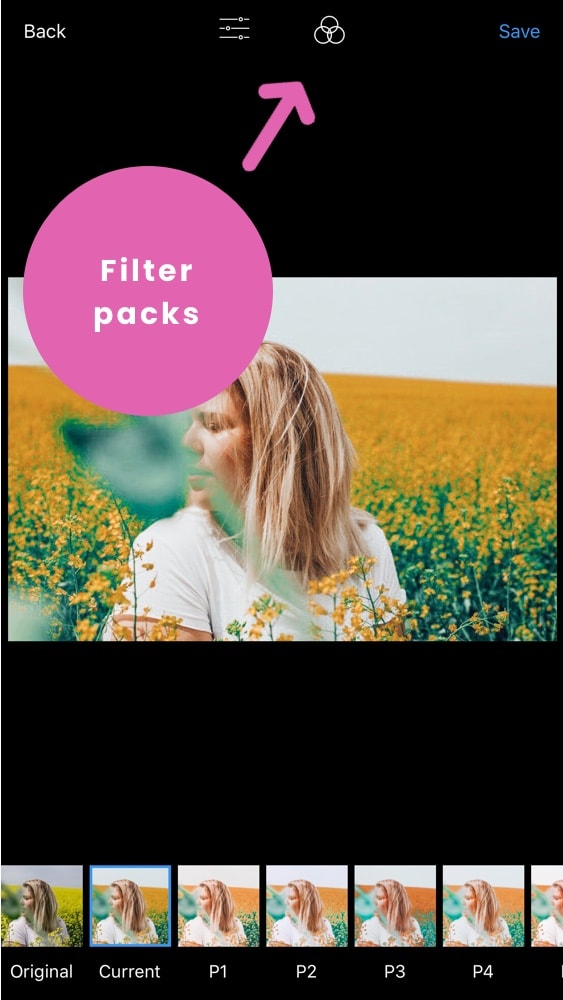 Now let's finish the tutorial by looking at your Settings.
15. Load your entire Instagram Feed
Want to see your posted photos in your Instagram feed? So you can plan your new posts on top of your existing Instagram posts? Or maybe you want to hide them?
Open your Settings
Turn on (or off) "Load Instagram posts"
Save
16. Automatically delete published posts
Want to delete your scheduled posts once you've posted them on Instagram?
Turn on "Remove published posts"
Save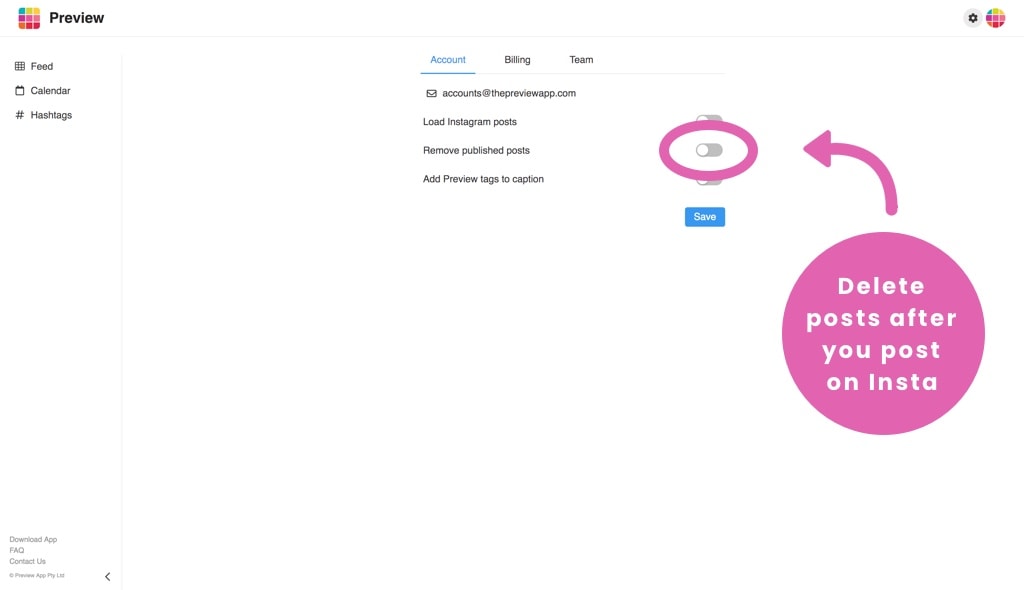 17. Download your receipts
Do you have a business and need to save receipts?
Click "Billing"
"View" receipt
Download as PDF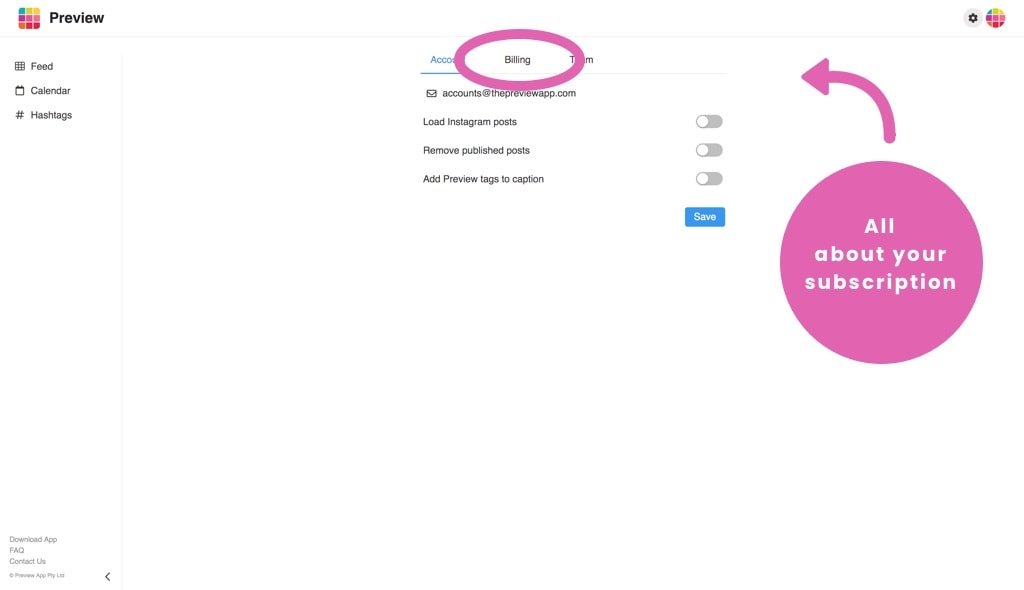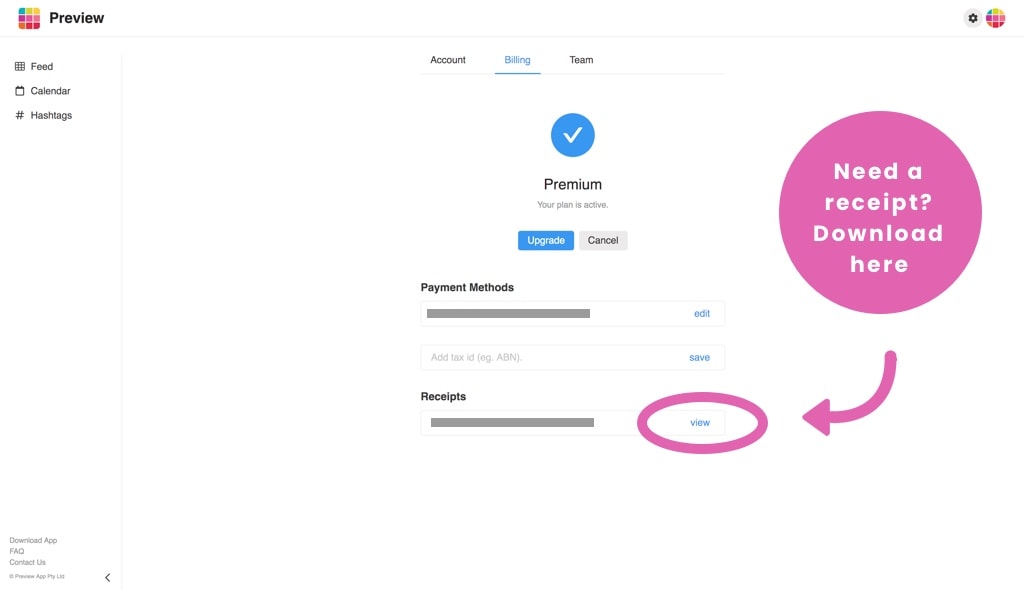 Lastly, let's have a look at 2 more features:
Want to check out your Content Calendar without your Preview feed?
Press on "Calendar" in the sidebar
Press on the first button to see your posts in a list
Instagram is all about story telling. This calendar view is perfect if you need to see if your story is flowing
Want to see your posts for the week?
Press on "Week" to see what posts are coming up this week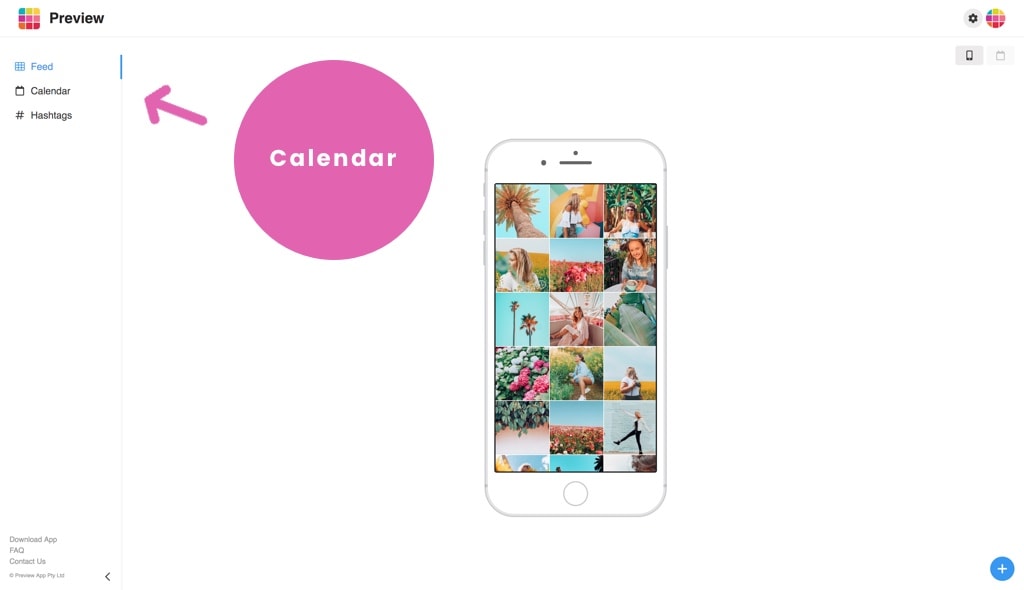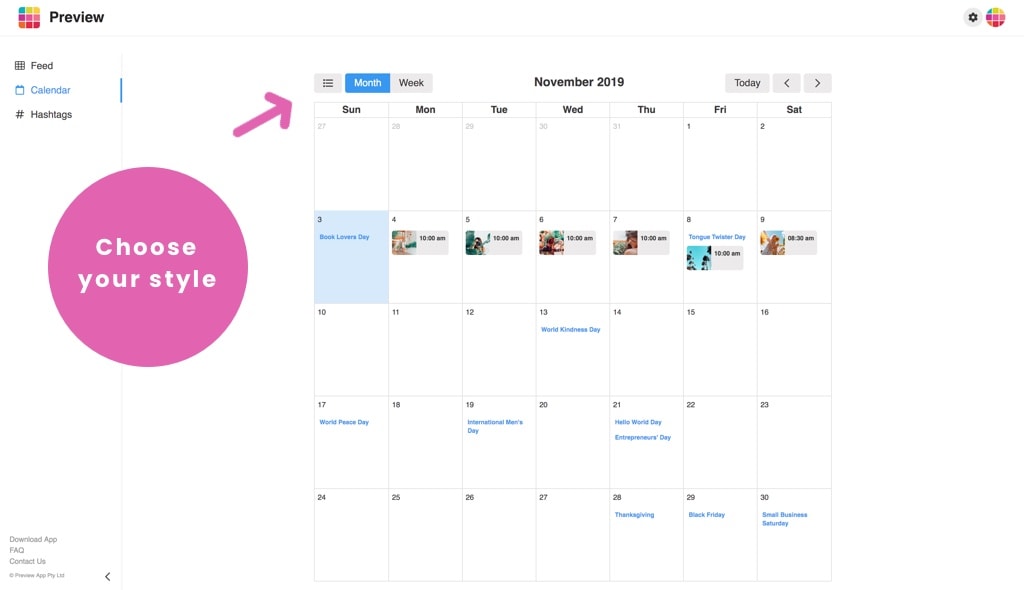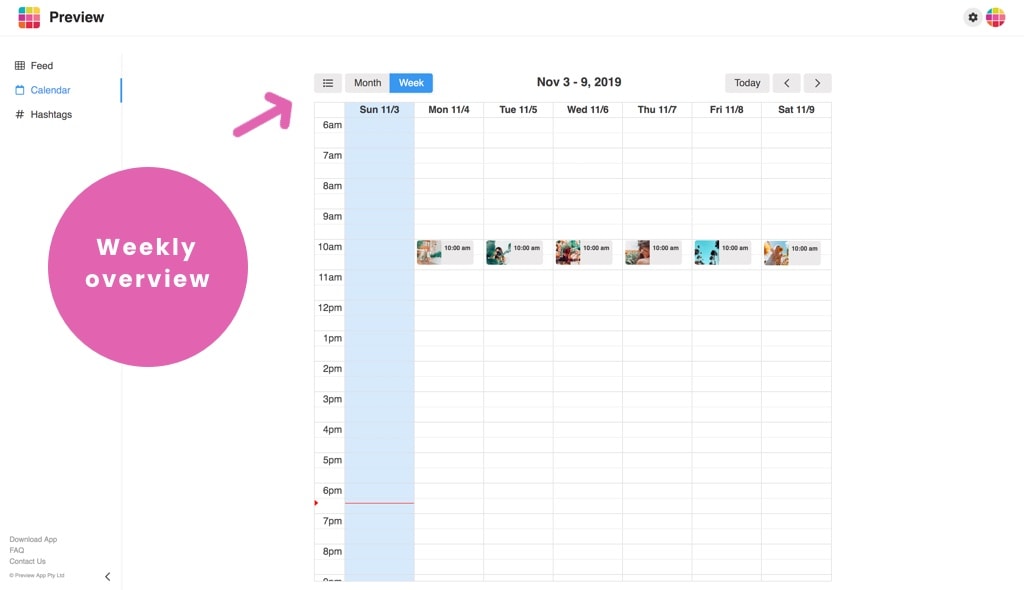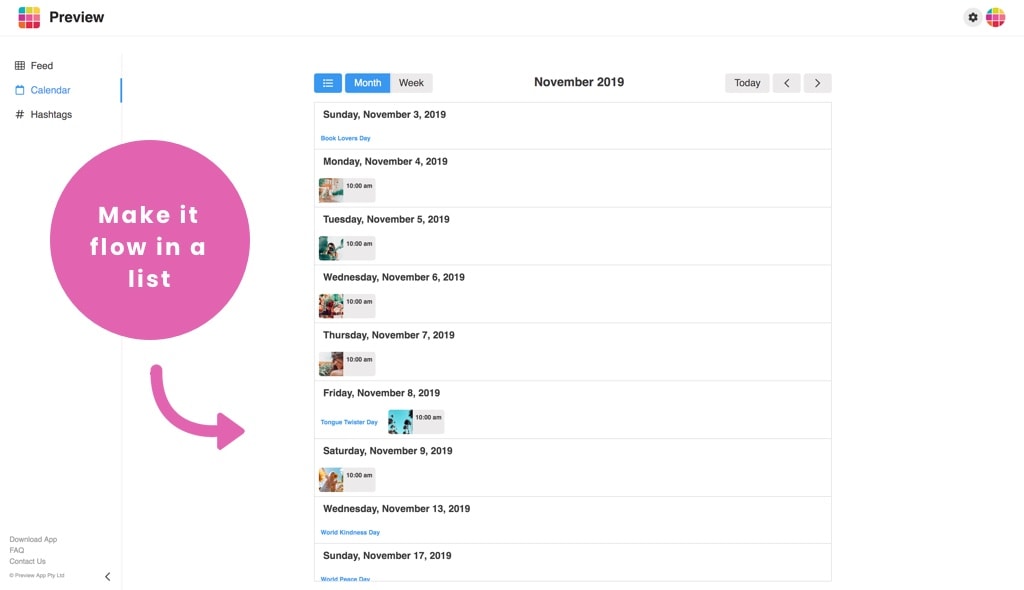 Want to manage your Hashtags?
Press on "Hashtags"
Press on + to add a new hashtag group
If you've already saved hashtags groups, just press on one to edit it. You can remove hashtags or add new hashtags in your group.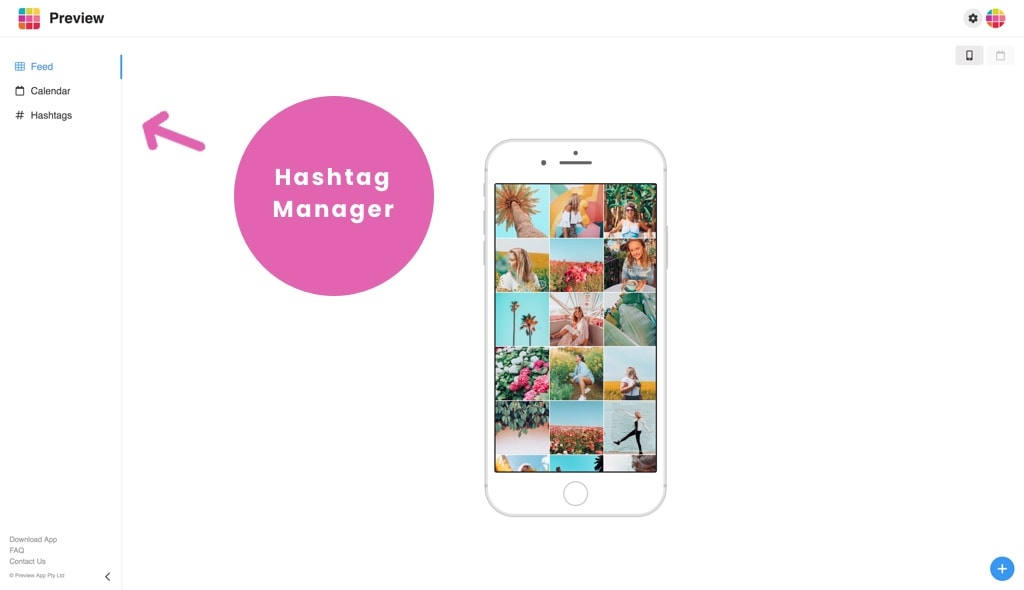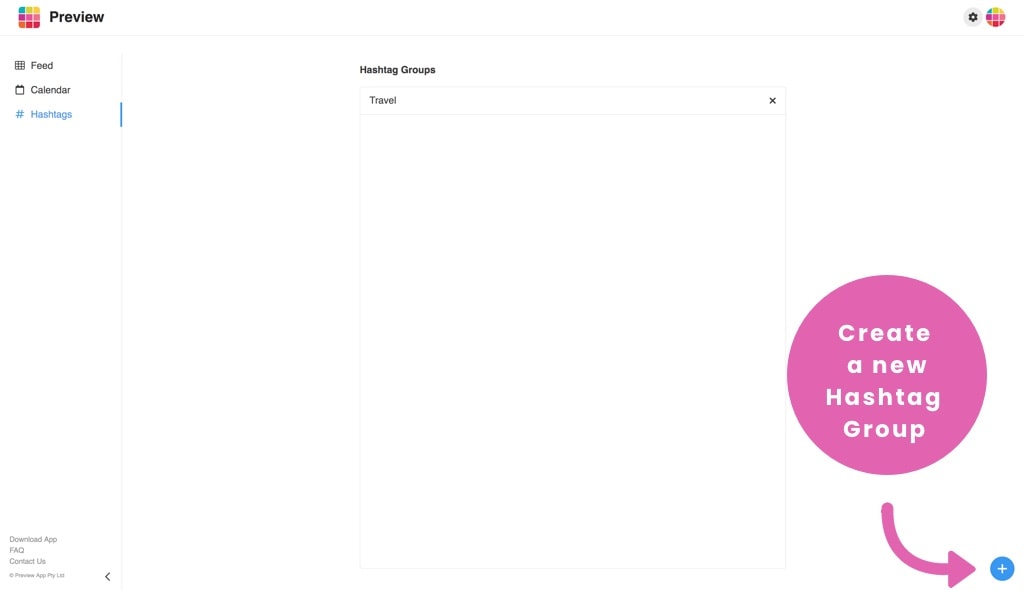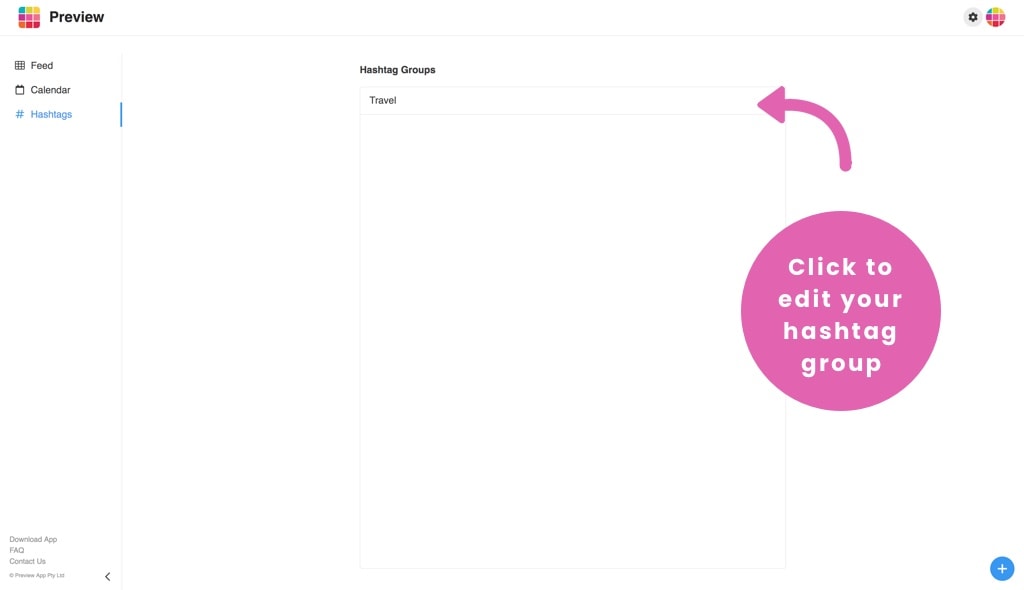 Need help with anything? Have any questions?
Press on "Contact us" to send us an email.
Or click here to send us an email.
We're here to help, so don't hesitate to get in touch.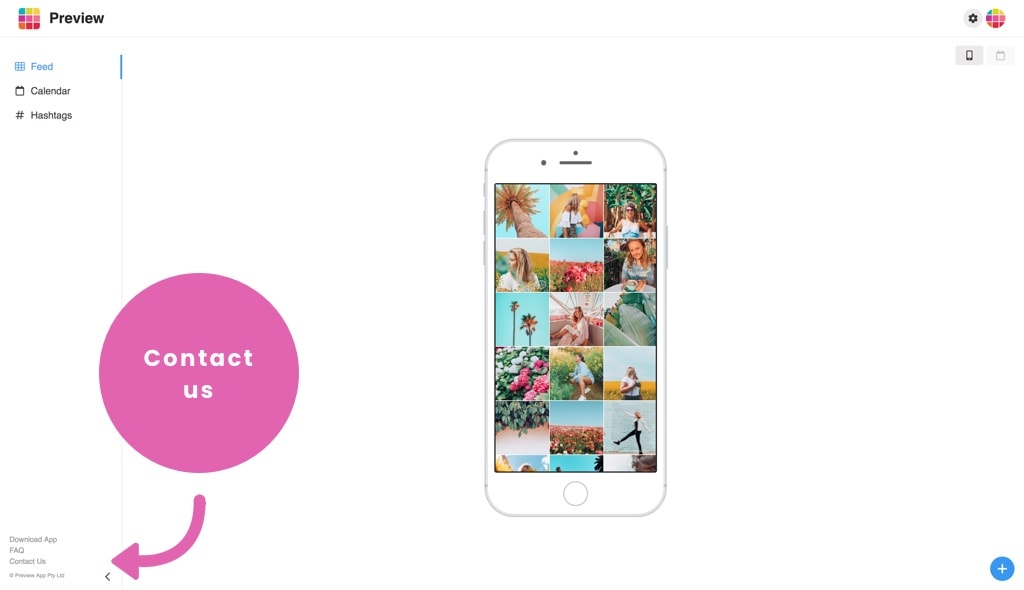 The Analytics dashboard is coming to Preview Desktop.
For now, use your Preview app on your phone to check out your Instagram analytics.
You will see everything you need to improve your content:
Your best performing posts for the week and months
Your engagement growth by week and month
Your Top Posts (which ones get you the most likes, comments and engagement)
Your Top Hashtags (which ones get you the most likes, comments and engagement)
Your Top Hashtag Groups (so you can test your hashtag group and know exactly which one performs the best for your account)
Your personal best time (and day) to post
The time when your followers interact with your posts the most
These are all the essentials to see what works or what doesn't work on your account, and what posts your followers resonate with the most.
In Preview app:
Press on the "Analytics" button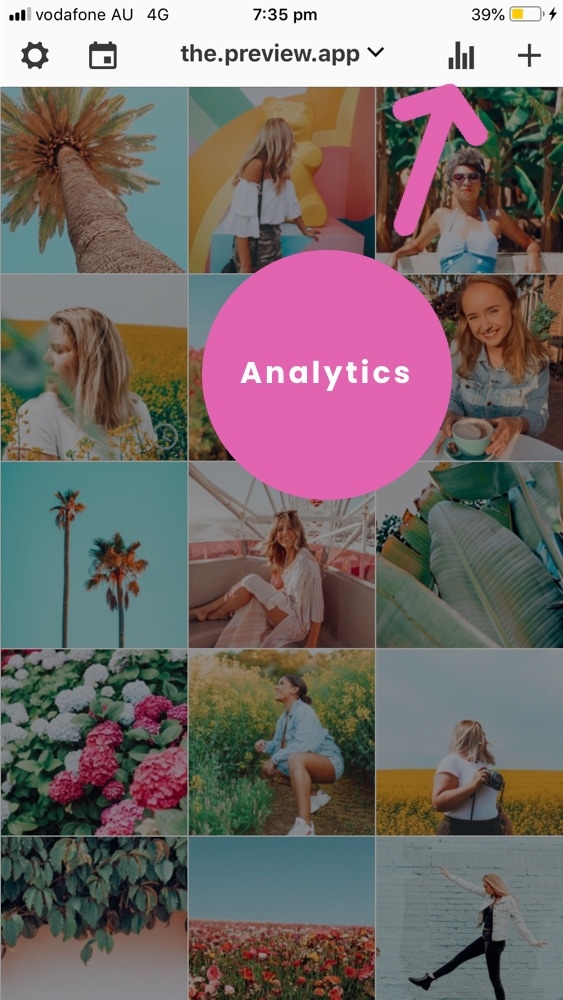 Preview Desktop is exclusively available to Premium members.
The beauty: The Premium Plan is the top subscription level.
Once you upgrade you unlock all current and future features and filters.
Our community is in love with it.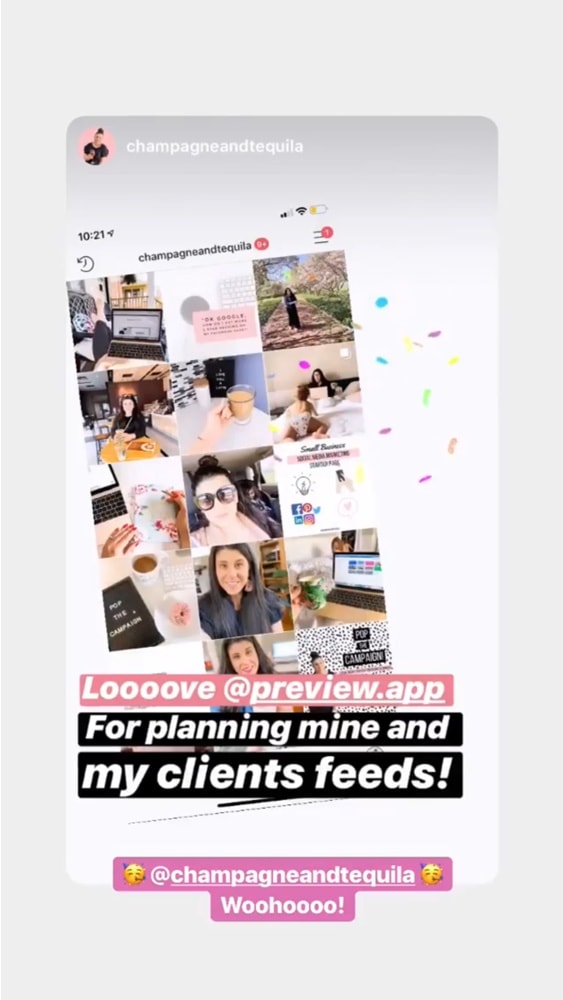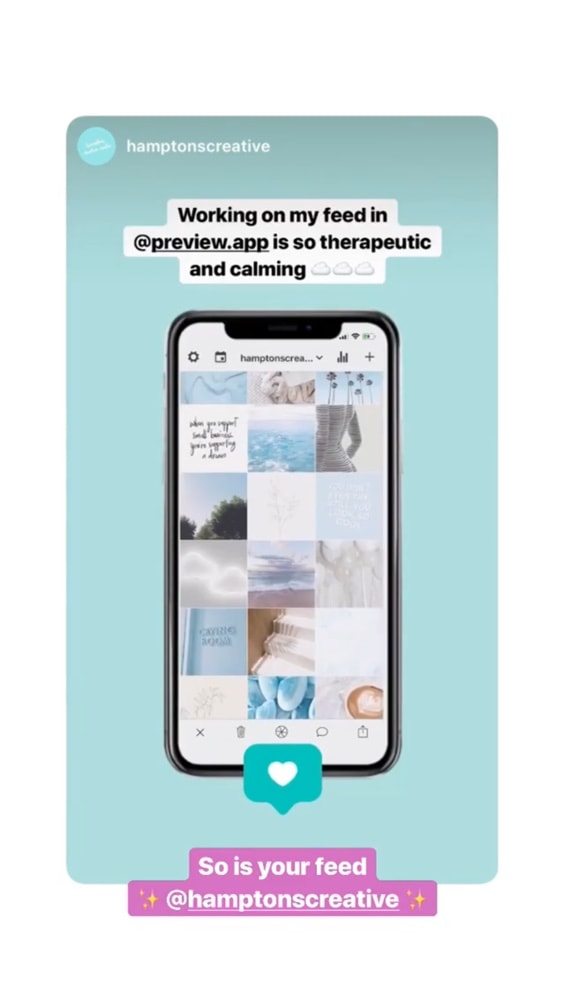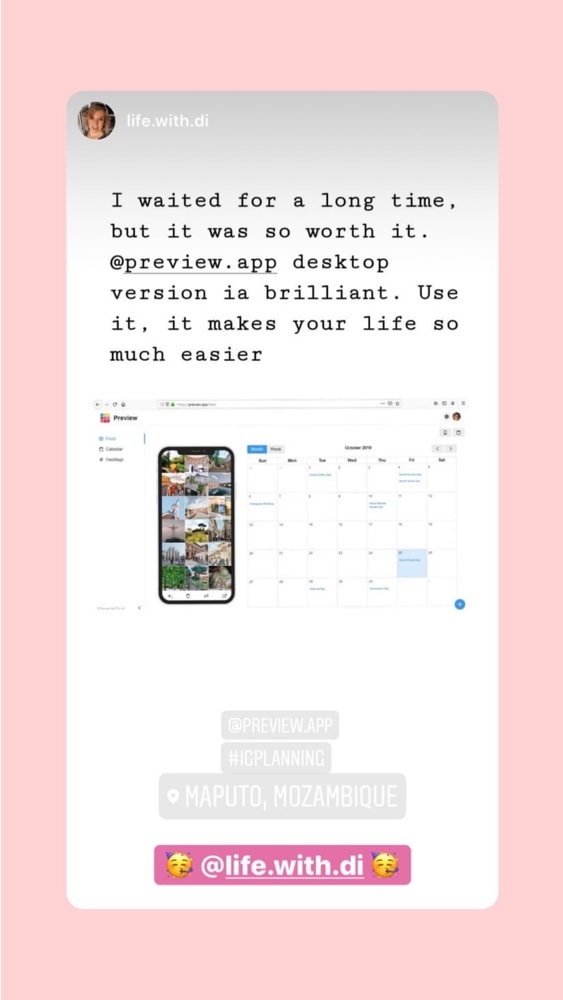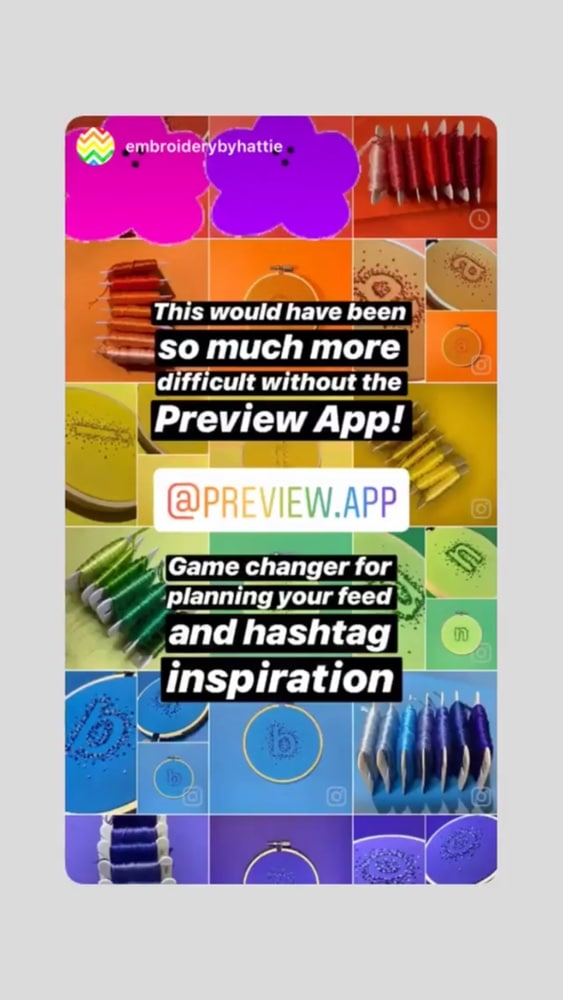 Ready? Click here to start now.
Not ready to upgrade? No problem.
All the core features of Preview are available for free, on your phone. You can still plan your feed like an absolute boss.
Click here to download it now.
Have fun planning your feed! And enjoy creating awesome content.
Can't wait to see what you'll create too!
Alex